Since the introduction of the January transfer window system in 2002, we've seen no fewer than 29 new players come through the door at Stamford Bridge. However, there certainly have not been 29 success stories.
Gonzalo Higuain looks set to become number 30, and Chelsea fans will be hoping that he has a better time with the Blues than the majority of the other January arrivals.
Here are all 29 of the Blues' January signings ranked on their success at Stamford Bridge.
29. Juan Cuadrado
£28m spent, 15 abysmal performances. Cuadrado looked completely out of depth after joining ?Chelsea in 2015, and was quickly shipped off to ?Juventus. Certainly one of the Blues' worst ever signings.
28. Maniche
A loan signing in 2006, Maniche missed a sitter and shown a straight red card in the first 17 minutes of his debut. He didn't play enough to earn a ?Premier League winners' medal?, and Chelsea declined to make his move permanent. 
27. Wallace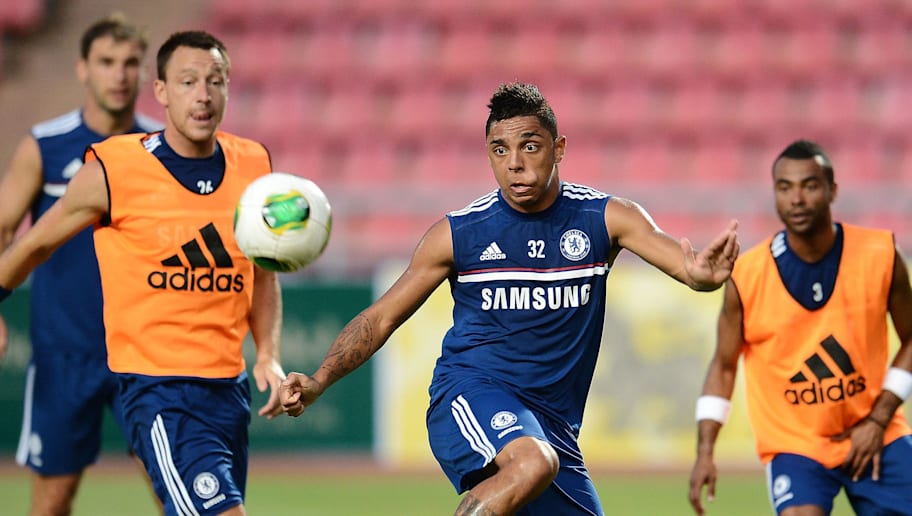 Big things were expected of the young Brazilian when he signed in 2012. However, abysmal loan spells in Italy, Holland and Brazil quickly proved that the Blues were wrong about Wallace, and he was eventually released last summer.?
26. Kyle Jameson
Joined the academy sides in 2017, but made just five appearances over the remainder of the season before being picked up by ?West Bromwich Albion. ?Arrived to very little fanfare and left to even less.
25. Gokhan Tore
After joining in 2009, Tore was tipped for greatness. His pace and power turned him into an academy star, but he was shockingly sold in 2011 for just £3m before he even had a chance to prove himself.
24. Franco Di Santo
'The new Hernan Crespo' moved to Stamford Bridge in 2008, but could not translate his academy form to the Premier League. He failed to score in 16 appearances, before being sold for just £2m to ?Wigan Athletic two years later.
23. Ali Suljic
Another youngster, Suljic joined the academy in 2012 and impressed whenever he was called upon. However, a mysterious illness sidelined him for the entire 2016/17 season, and he was eventually granted a free transfer away from the club in 2018.
22. Jiri Jarosik
Jarosik never managed to cement a permanent place in the starting lineup during his 18 months at the club, but made enough appearances to earn both a League Cup and Premier League winners' medal in 2005.
21. Lucas Piazon
After joining in 2012, 'the new Kaka' established himself as yet another academy star. Unfortunately, Piazon quickly fell victim to Chelsea's extensive loan policy, and the 25-year-old is somehow still part of the furniture at Stamford Bridge. He could still come good, but he'll almost certainly be leaving the club when his contract expires next summer.
20. Mohamed Salah
The ?Mohamed Salah of 2019 is certainly not the same as the Salah of 2014. The Egyptian winger looked as though his legs worked faster than his brain, and few would have expected Salah to come good just a few years later. He managed just two goals from 19 appearances before being discarded to the ?Serie A.
19. Kenneth Omeruo
Omeruo was another exciting youngster to join in 2012, but is yet to actually make an appearance for the club. Loans in England, Turkey and now Spain have followed, and Omeruo looks to be a competent centre-back. He'll never make it at Chelsea, but should earn the club a modest transfer fee.
18. Ricardo Quaresma Quaresma was afforded just five appearances after joining on loan in 2009. He earned an impressive assist on his debut, but soon fell out of favour and returned to ?Inter. Fortunately, with no transfer fee paid, this was a low-risk move.
17. Scott Parker
Chelsea's first ever January signing in 2004, Parker was one of England's most exciting youngsters at the time of his transfer. 
He failed to displace the likes of Frank Lampard and Claude Makelele in the Blues' midfield, but still won the PFA Young Player of the Season award. Chelsea then made a loss on him when they sold him to ?Newcastle United in 2005.
16. Kevin de Bruyne
One of the most exciting youngsters to move to the club, ?de Bruyne was simply never given a real chance to impress at Chelsea. In the team's defence, de Bruyne did little to impress in his nine appearances, before being sold to Wolfsburg for £18m. And to think, Salah and de Bruyne could be lining up alongside ?Eden Hazard in 2019. 
15. Patrick Bamford
Chelsea picked up Patrick Bamford for just £1.5m in 2012, and the youngster went on to enjoy a few stunning seasons on loan in the ?Championship. He couldn't replicate his form in the Premier League, and was sold to ?Middlesbrough for a profit without ever playing at Stamford Bridge.
14. Matt Miazga
Guess what happened to Matt Miazga after he joined Chelsea in 2016. If you said "play two matches before being loaned out to Vitesse", well done. 
Still just 23, the potential for Miazga to establish himself as a solid centre-back is clear to see, and the £3.5m which the Blues spent to sign him looks to be smart business.
13. Mario Pasalic
?Pasalic's 2014 move to Chelsea was quickly followed by several loan moves, but Pasalic is one of those who has actually excelled as part of the loan army. He has impressed in France, Spain, Russia and Italy, and will likely earn Chelsea a tidy profit.
12. Fernando Torres
Torres' £50m move to Chelsea in 2011 is easily one of the worst transfers of all time, but his goal against ?Barcelona in the semi-final of the 2012 Champions League was worth its weight in gold to Chelsea fans.
11. Emerson Palmieri
Emerson has now had 12 months at Stamford Bridge, and he has certainly impressed when given his 18 chances. Unfortunately, he currently finds himself lost behind the seemingly-untouchable ?Marcos Alonso, but Emerson looks like he could turn into a star someday soon.
10. Bertrand Traore Many fans are still sad about Traore's departure from the club. After officially joining in 2014, he was one of the most talked about youngsters at the club. Traore was given a total of 16 appearances during the 2015/16 season and even managed to net four goals, but the club seemingly were not prepared to wait for the youngster to develop before selling him in 2017.
9. Olivier Giroud
If you only look at statistics, ?Giroud's move to Chelsea has not been the greatest. However, he was brought in to complement Eden Hazard, and he has certainly done that. He offers an intriguing option in attack, and there have certainly been worse transfers.
8. Ross Barkley
£15m for a first-team midfielder is undoubtedly a good deal. Under Maurizio Sarri, ?Barkley has shown glimpses of his incredible potential, but the 25-year-old has still left fans wanting more. This was a low-risk, high-reward move?, and the rewards could certainly be amazing.
7. Demba Ba
23 players in and we're finally at a good deal. Demba Ba's time at Chelsea was criminally short – the striker lasted just 18 months at Stamford Bridge before being shipped off to Besiktas in 2014. He was never a regular starter, but often managed to score goals when he came off the bench. Ba definitely should have been given more chances.
6. Kurt Zouma
Kurt Zouma's injury was one of the cruellest moments in recent memory for Chelsea. After joining in 2014, it seemed as though the Frenchman was set to become a starter for years. However, his 2016 injury completely derailed his career. Now on loan with ?Everton, Zouma is showing glimpses of his potential, and will hopefully replicate it back at Stamford Bridge. 
5. Nemanja Matic
In 2014, Chelsea needed a midfield powerhouse, and that is exactly what they got when they signed ?Nemanja Matic. The towering Serb instantly improved the Blues and was instrumental in guiding them to two Premier League titles. He followed Jose Mourinho to ?Manchester United in 2017, netting Chelsea tidy profit in the process.
4. David Luiz
?David Luiz's first spell with Chelsea began in January 2011, and he was an instant hit amongst fans. An incredibly likeable character, Luiz is also a truly gifted footballer, and he cemented his place in Chelsea folklore as he played the full 120 minutes of the 2012 Champions League final. After a spell in France, Luiz is back as a Blue and remains a key player for the team.?
3. Nicolas Anelka
A £15m signing in 2008, Anelka proved to be an incredibly smart piece of business for the Blues. His 19 league goals during the 2008/09 season won him the Premier League Golden Boot award, and he also hit double figures in the following season as Chelsea lifted the title. Brought in to score goals, Anelka simply scored goals, making him a superb success.
2. Branislav Ivanovic
Be honest, you had no idea who Branislav Ivanovic was when he moved to Chelsea in 2008. Nine years, 377 appearances and 12 trophies later, the right-back deserves his place as one of the club's most iconic players. Not bad for £10m.
1. Gary Cahill
As January transfers go, there are few better than ?Gary Cahill. In 2012, he left struggling Bolton Wanderers for Chelsea in a £7m deal, and the rest is history. He formed a stunning partnership with John Terry and has won every trophy available in English football. Now the club's captain, Cahill has given his all for the club, and they will struggle to find a better winter arrival than him.?
Let'