Chelsea boss Mauricio Pochettino says he 'likes' the club's owners coming into the team's dressing room after games at Stamford Bridge.
Pochettino revealed co-owners Todd Boehly and Behdad Eghbali, as well as co-sporting directors Laurence Stewart and Paul Winstanley, have been making regular post-match visits to the dressing room this season.
The Argentine confirmed the ownership visited the dressing room after Sunday's 1-0 home defeat to Aston Villa which left Chelsea with just one win from their opening six Premier League games as they sit 14th in the table despite spending £1bn since being taken over in May 2022.
Sky Sports' Ben Grounds and Peter Smith discuss whether Mauricio Pochettino has bitten off more than he can chew at Chelsea

Speaking ahead of Wednesday night's Carabao Cup third-round home tie against Brighton, Pochettino said: "I like when the owners come [in].
"In all my career as a coach at Espanyol, Southampton, Tottenham and Paris Saint-Germain, I think it's good that the owner comes to the dressing room.
"The way in which they approach the players is most important. If they are in a good and correct way then they're very welcome.
"After my press conference on Sunday [against Villa] they came and shared with us like normally. They also did it with [the games against] Liverpool, Luton and Nottingham Forest.
FREE TO WATCH: Highlights from the Premier League match between Chelsea and Aston Villa

"They came with Paul and Laurence, Behdad and sometimes also Todd, and they share some comment and we talk about the game always after my media duties.
"I don't see it in a bad way. For me it's good always if they share with us and then they say hello to the players. If they came for a speech or a different thing, then of course maybe that is different.
"But in the way that they come, they are very welcome. They own the club, so I think they can do whatever they want.
"I think they are in a very good way and we are so glad that they came and shared time with us – even when we won the game or we didn't win and we're suffering."
Gary Neville says it's a mystery what's happening at Chelsea and feels chaos flows right down the club

Pochettino also expressed his happiness at the conduct of the owners in the dressing room.
Co-controlling owner Boehly was heavily criticised last season for entering the dressing room and reportedly calling the team "embarrassing" in an address to the players after the home defeat to Brighton.
But Pochettino believes "they know how to behave".
Asked whether he gave a speech to the players following Sunday's defeat, Pochettino said: "Not really, but I think we've been speaking a lot with the players on Monday and Tuesday.
"It's my duty that if I need to do a speech then it's my decision – only me or the players or the captain.
"It's not a job of the owner to come to the dressing room and to give a speech after the game, even when you win or lose. But they know very well how they need to behave."
Poch on Bruno exit: He didn't belong to my coaching staff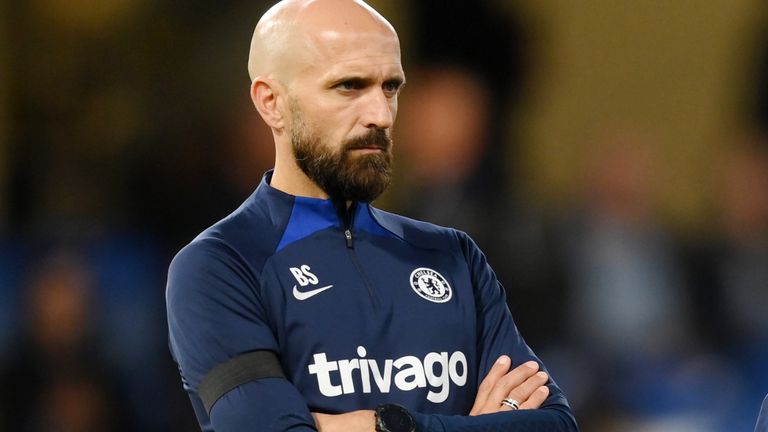 Pochettino also addressed the exit of first-team coach Bruno Saltor.
Saltor came to Stamford Bridge as part of Graham Potter's coaching staff, and he acted as Chelsea caretaker boss when the former Brighton manager was sacked after just 31 matches in charge.
But Saltor has now left the Blues, with the two sides reaching a mutual agreement to terminate the remaining two years of his contract.
Pochettino said of the Spaniard's departure: "It was a decision between the club and Bruno.
"He didn't belong to my coaching staff and then it's the best decision for him and for the club."
Pochettino has yet to decide whether to bring in his own replacement.
Merson Says: Chelsea's cup tie is crucial – Pochettino is getting panicky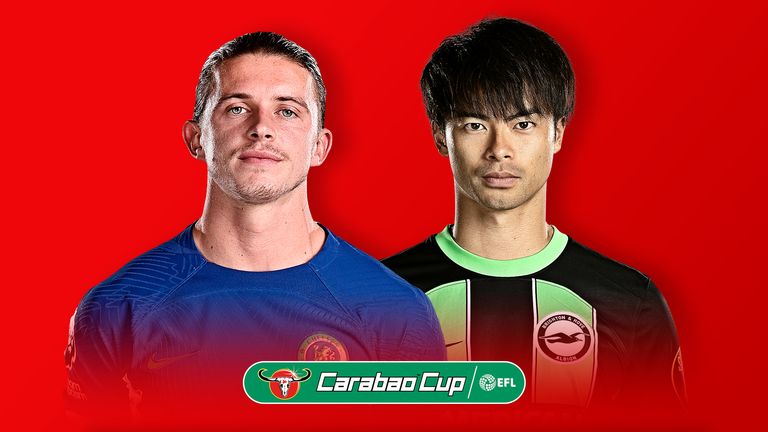 Sky Sports' Paul Merson:
Chelsea need the Carabao Cup more than any other team. Wednesday night's cup tie with Brighton means more to Chelsea than any of the other teams left in the tournament.
I said Tottenham missed a trick by playing a weakened team in round two and going out. But you look at them now and the way they have started, they need to get in the Champions League so I can understand why they rested players now.
But Chelsea can't win a game for toffee. They haven't had a hard start either, a lot of clubs would have bitten your hand off for those fixtures. Newcastle started the season against Aston Villa, Liverpool, Manchester City and Brighton but have four more points than Chelsea.
The last thing Chelsea need to do now is go out to Brighton in the cup.
If you look at Chelsea's fixtures, you worry for them. The next 10 games are so vital for their season that you can't catch your breath. It's a run where you actually don't know when they're going to win a football match.
So Wednesday is a huge football match. If they get beat here, they will have won three games in their last 24. One was against Luton and you don't know when they will win a game. One was against AFC Wimbledon in the cup and they got over the line in that one. And the other one was against Bournemouth in the league last season but only after Bournemouth got enough points to stay up.
Even Mauricio Pochettino is coming out and is now saying: 'It's a process, you have to be patient'. When a manager comes out and says that, it shows they are starting to get a bit panicky. Even he doesn't think it was meant to be like this.
If he is saying that already, it's a worry. I hope he gets that patience and time, they have injuries too. But I'm worried.