Chelsea and Arsenal will face off in the first London derby of the Premier League season when they meet on Saturday evening.
Chelsea will be hoping to continue their development and progression under Maurizio Sarri, following their 3-0 victory over Huddersfield which was impressive, yet uninspiring.
Unai Emery will be looking for a huge improvement from the team who lost 2-0 to Manchester City last weekend. The players looked unprepared and they, as well as Emery, received a lot of criticism from fans and pundits alike.
Here are four key battles which could decide the highly anticipated clash.
1. Eden Hazard vs. Hector Bellerin
Eden Hazard may get his first start under new manager Maurizio Sarri, having featured briefly during his side's 3-0 victory over Huddersfield. Hazard looked in great form, dribbling past players with ease.
Should Hazard start from the left flank, he will come up against Hector Bellerin. Bellerin has the pace to deal with Hazard, but will face a tough job of tracking and subduing the Belgian.
Bellerin has historically struggled against Hazard, giving away a penalty when the sides met in January. Unsurprisingly, the winner of this battle will most likely be on the winning side.
2. David Luiz vs. Pierre-Emerick Aubameyang
David Luiz has rarely inspired confidence when lining up as part of a central defensive pairing. He is prone to lapses of concentration which can be easily punished, and Aubameyang will be licking his lips at the prospect.
Luiz looked solid when involved in Chelsea's back three under Antonio Conte, but has less protection now that the third defender has been removed. Should he make a mistake, Aubameyang has the pace to exploit the situation before Chelsea can react.
However, Luiz is undeniably a strong defender, and will certainly make it a tough evening for Aubameyang if he can maintain his discipline. 
3. N'Golo Kante vs. Lucas Torreira
Chelsea's World Cup winner will feature in a more advanced role under Maurizio Sarri, and is now tasked with impacting the game at both ends of the field. He will need to win the ball in midfield, before pushing on in attack.
When moving forward, he will face Arsenal's own diminutive defensive midfielder in Lucas Torreira. The Uruguayan will also be tasked with breaking up Chelsea's attack, and will be responsible for tracking Kante as he moves forward, as he did to score against Huddersfield.
If Torreira can keep watch over Kante, Chelsea will have one less option in attack, which could help Arsenal keep them at bay.
4. Jorginho vs. Mesut Ozil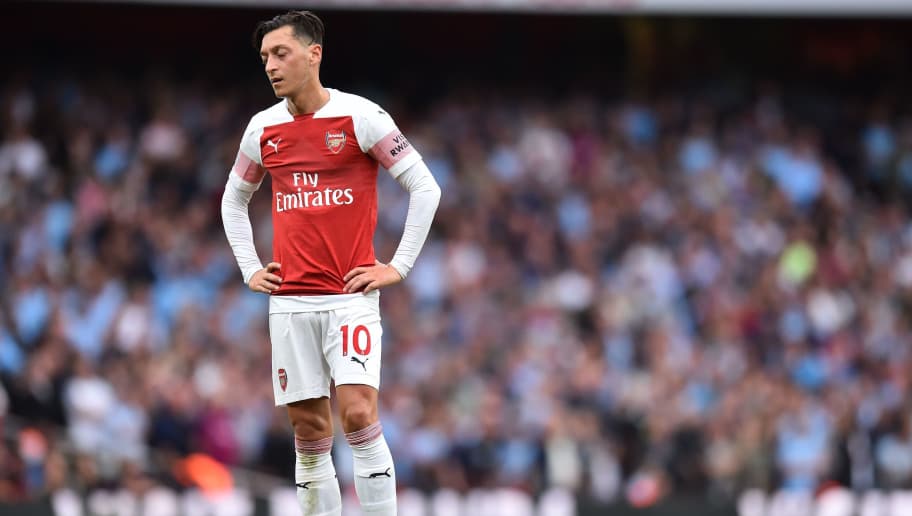 Ozil will be one of the key players who Emery will be demanding an improvement from. He has the reputation of shying away from the big matches, and will certainly be punished tomorrow if he does.
The space he likes to operate in will be occupied by Jorginho, Chelsea's new expensive signing. Jorginho will shield Chelsea's defenders and try to pressure Ozil into making a mistake.
Arsenal will be looking to Ozil to help dictate their attack, and if he can keep away from the likes of Jorginho or Kante, he will be able to work with the likes of Aaron Ramsey or Aubameyang, and cause chaos against Chelsea once again. 
Let'