London derbies often create some of the most memorable games of the season, and Chelsea's clash with Arsenal this Saturday looks to be no different.
The two teams square off in the second round of fixtures in the Premier League this season, and both teams will be looking to assert their dominance in the post-Arsene Wenger era. Fans will be desperate for Unai Emery's men to be at their best and prove they can compete with Chelsea.
Arsene Wenger historically struggled against Chelsea, and new Chelsea manager Maurizio Sarri will be looking to achieve a better set of results against Arsenal than his predecessor, Antonio Conte.
Ahead of what will certainly be an intriguing match, here are five of the most memorable clashes between the two teams.
5. Chelsea 3-5 Arsenal (October 2011)
Both teams seemingly forgot how to defend when they met in October 2011. Both teams showed serious attacking intent, but defensive errors ended up deciding the outcome of this contest.
Lapses in concentration from Andre Santos and Per Mertesacker allowed Frank Lampard to give Chelsea the lead, before Robin van Persie levelled the score just before half time. However, this was not the last goal of the half, as John Terry profited from a poorly-handled corner to give Chelsea the lead going into the break.
Arsenal came out from the interval and looked a huge threat in attack, with Andre Santos equalising for the Gunners before Theo Walcott gave Arsenal their first lead of the day. Juan Mata made it 3-3 with a beautiful long range strike, and Chelsea pushed for a late winner. 
However, a slip from John Terry gifted a goal to Van Persie, who went on to make it 5-3 only minutes later. The BBC said this game "could have been 10-10", and this was certainly one of the most exciting clashes between the two sides.
4. Chelsea 6-0 Arsenal (March 2014)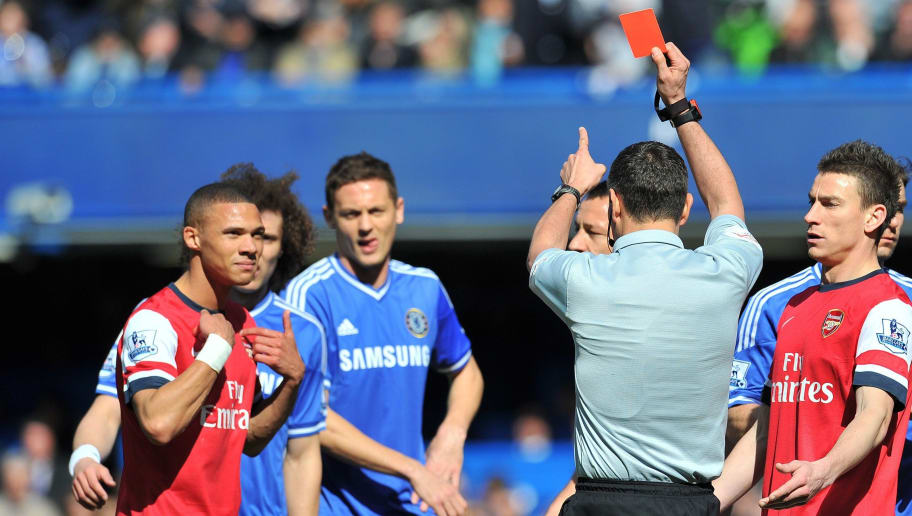 This match was Arsene Wenger's 1000th in charge of Arsenal, but it proved to be one of the worst of his entire career.
Veteran striker Samuel Eto'o opened the scoring after only five minutes, before Andre Schurrle doubled Chelsea's advantage only two minutes later. A handball from Alex Oxlade-Chamberlain gifted Eden Hazard a goal from the penalty spot, but it was Kieran Gibbs who received his marching orders, in what was a clear example of mistaken identity.
Oscar added a fourth before half time, giving Chelsea an insurmountable lead. The Brazilian netted Chelsea's fifth, before Mohamed Salah scored the sixth and final goal of the match.
Wenger's side were completely outclassed by Jose Mourinho's Chelsea, in what was one of the most shocking results in either club's history. 
3. Arsenal 3-0 Chelsea (September 2016)
Antonio Conte's Chelsea had not started the season in great form, and were swiftly dismantled by an Arsenal side who were considerably better than their rivals in every single aspect.
A Gary Cahill error gifted Alexis Sanchez his side's first goal after 11 minutes, before Theo Walcott struck a second only two minutes later, completing a fantastic passage of play from Arsenal. Chelsea were forced to attack to try save the game, only to be punished by a counter-attacking Mesut Ozil, who gave Arsenal a 3-0 lead going into half time.
Arsenal were completely untouchable, and Chelsea were forced to change their tactics. The introduction of Marcos Alonso saw Chelsea change to their famous three-back formation and, whilst they were unable to rescue anything from this game, they went on to dominate the Premier League for the rest of the season.
2. Chelsea 2-1 Arsenal (February 2007)
This final of the Carling Cup became known as the 'Snarling Cup Final', with players from both teams showing a huge lack of discipline.
A 17-year-old Theo Walcott netted his first Arsenal goal to give Arsenal the lead early on, but Didier Drogba equalised only minutes later after controversially being judged to have successfully beaten Arsenal's offside trap. The Ivorian struck the winning goal in the 84th minute, but this game is more memorable than just goals.
Chelsea captain John Terry suffered a terrifying head injury after he attempted to connect with a diving header, only to be accidentally kicked in the head by Arsenal's Abou Diaby. A record seven minutes of injury time was added on, which was then further extended by around five minutes.
John Obi Mikel clashed with Kolo Toure, who were both sent off as a result. Emmanuel Adebayor was also shown a red card for a suspected punch, although it was another example of mistaken identity as it was later revealed that Emmanuel Eboue was the real culprit.
1. Chelsea 2-3 Arsenal (October 1999)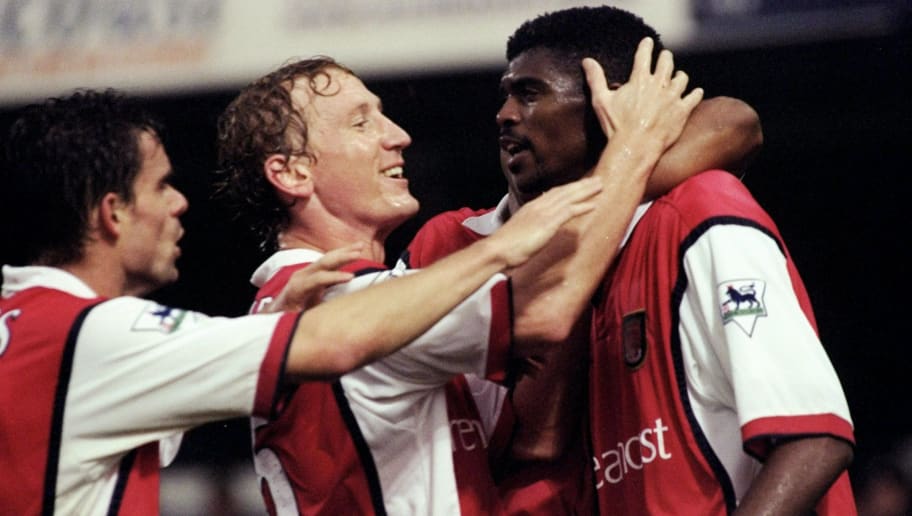 Arsenal legend Nwankwo Kanu stole the show when the two sides met in the Premier League in 1999.
Tore Andre Flo gave Chelsea the lead with a header just before half time, before Dan Petrescu doubled Chelsea's lead with a header of his own early in the second half. It looked as if Chelsea had done enough to win the game, but Arsenal continued to attack.
With 15 minutes remaining, Kanu pounced on a ball in the penalty area to bring the score to 2-1, before an error from Gus Poyet gifted Kanu a second goal of the game only five minutes later. Arsenal looked as though they would find a winning goal, despite clearing two goal-bound headers from Chelsea.
Both teams looked to have settled for a draw, but Kanu was not prepared to leave without a victory. His persistence saw him beat Ed De Goey to the ball and fire a beautiful curling shot over the heads of Frank Leboeuf and Marcel Desailly to give his side a memorable victory.
Let'