Chelsea's loan army is the stuff of legend. The club have a habit of stockpiling talent and loaning them across the world, with the hope of creating either a top player or a top profit.
The likes of Romelu Lukaku and Kevin De Bruyne have proven that there is a short-term advantage to this system, but the club have also garnered a reputation for stunting the development of youngsters.
For every success, there appear to be dozens of failures. Creating one team of questionable loanees is no easy task, but here are 11 players who should have been nowhere near the Chelsea team.
1. Goalkeeper – Eduardo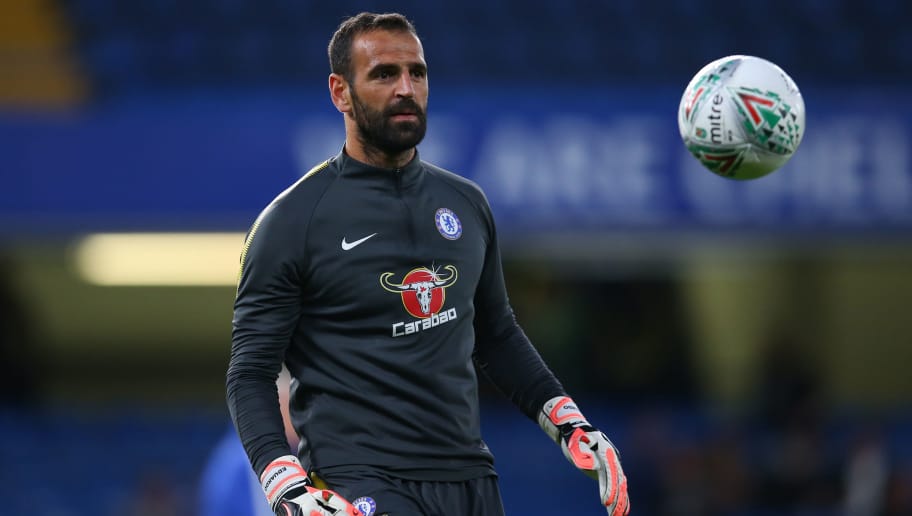 Chelsea's loan army tends to be for young players who can increase in value. Eduardo is not one of those players.
The 35-year-old Portugal international joined Chelsea in 2016 as the third choice goalkeeper, but did not make an appearance for the club before being released at the end of the season.
However, all of a sudden, Eduardo was re-signed to a new contract and immediately loaned out to Dutch side Vitesse. He will surely not return to play for Chelsea, and is hardly worth an impressive transfer value. 
Rumours suggest he is being kept around with the intention of becoming a goalkeeping coach in the future, but loaning him to Vitesse is undeniably strange.
2. Defender – Papy Djilobodji
Djilobodji, already in his late twenties, arrived at Chelsea in 2015. The Blues fought off competition from the likes of Sunderland and Aston Villa to sign him, proving he was not good enough to play for Chelsea.
He was omitted from their Champions League squad immediately after arriving and played a grand total of one minute at the end of a cup match. Quite why he was brought to the club in the first place remains a mystery, but he was then loaned out to Werder Bremen before eventually joining Sunderland.
The Senegalese defender was recently sacked by the Black Cats after failing to return to training, which sums up the struggles of his career since joining Chelsea.
3. Defender – Michael Hector
On the same day that Djilobodji arrived, so did Michael Hector from Reading. He had been a decent Championship centre back, and has consistently performed as a decent Championship centre back ever since.
Loans to Reading, Frankfurt, Hull City and Sheffield Wednesday followed, proving Hector is not viewed as a capable Premier League centre back, let alone a Chelsea centre back.
He is still on the books at Chelsea, but is unlikely to ever make his debut for the team.
4. Defender – Carl Magnay
Magnay won Sky One's Football Icon talent show, earning a contract with Jose Mourinho's Chelsea in 2007. Despite winning the show, Magnay never looked even close to the level required to play for Chelsea.
He was firstly loaned out to MK Dons, where he played a total of seven minutes. He was then shipped out to Northampton Town, who used Magnay in just one match. He was returned to Chelsea's reserve side shortly after.
During pre-season in 2009, Magnay was involved in a training ground brawl with UAE side Al-Ahli, before suffering a nasty injury in 2010. Two years later, he joined Gateshead, which seemed to be the appropriate level for Magnay.
5. Midfield – Danilo Pantic
Chelsea beat Juventus to sign Pantic in 2015, but now they surely must be wishing they had not.
Pantic was instantly loaned to Vitesse, where he blamed his lack of appearances on discrimination towards Serbian players by the club. After being suspended by the club, he joined fellow Dutch side Excelsior, before returning to his boyhood club Partizan Belgrade.
His loan with Partizan was recently renewed for another season after impressing during his initial spell there. However, the fact that he was not moved to a more challenging environment highlights that he has found his best level in Serbia. He will certainly never play for Chelsea.
6. Midfield – Tom Taiwo
Chelsea risked serious legal action to bring Taiwo to the club in 2006. Fearing a hefty lawsuit from Leeds United, Chelsea parted with £5m to bring Taiwo and teammate Michael Woods to the club, which was a huge price tag in 2006.
After years in the reserve side, Taiwo was loaned out to League Two side Port Vale, which is indicative of his level at the time. Port Vale rejected the chance to sign Taiwo again, and he was  sent to Carlisle United, who he joined permanently upon the expiring of the loan deal.
To be sent down to League Two suggests that Chelsea knew he would not be able to compete at a higher level. They hardly put up a fight to keep him from moving to Carlisle, and he should never have been part of their loan army.
7. Midfield – Yossi Benayoun
Benayoun's arrival at Chelsea in 2010 prompted questions from many Chelsea fans. He had been reliable for Liverpool, but hardly looked to be a game changer.
Injuries plagued his time at Stamford Bridge, before he fell out of favour only a year after arriving. Rivals Arsenal opted to take Benayoun on loan, but declined to sign the Israeli on a permanent basis. West Ham also took a chance on Benayoun, but he was eventually released by Chelsea when his loan with the Hammers ended.
Like Eduardo, Benayoun was never going to develop into a valuable asset, and should have been sold immediately in 2011, instead of hanging around until 2013.
8. Midfield – Victorien Angban
Chelsea brought Angban to the club in 2012 and kept him around the reserve team for three years until he was finally able to secure a work permit.
The club had three years to consider Angban's role in the team, only to send him on loan to Belgian side Sint-Truiden. Disciplinary issues were a serious problem for Angban, who struggled to impress.
A loan to Granada was surely the highlight of his career so far, as loans to Waasland-Beveren and Metz followed. Angban has failed to impress at a level which is even close to that of Chelsea's, but is somehow still on the books at the club.
9. Forward – Stipe Perica
He was then sent to Serie A side Udinese, who opted to make his loan permanent. He went on to net seven goals in 47 appearances for Udinese, who have then sent Perica out on loan themselves.
His time in the loan army was brief, but truthfully he had never looked good enough to make an impact at Chelsea. He was a quick profit for the club, so everyone won.
10. Forward – Joao Rodríguez
Rodriguez burst onto the scene as a youngster in Colombia, and Chelsea won the race for his signature in 2013.
Loan spells in Colombia, France and Portugal followed and proved to Chelsea that Rodriguez was never going to live up to the hype around him. However, he is somehow still a Chelsea player, and has been sent out on a total of ten loan spells to date.
Surely it does not take ten loan spells to figure out whether a player is worth keeping around? After a few disappointing moves, Chelsea should have cut ties with Rodriguez. However, the 22-year-old is still with the Blues and looking for his big break on loan with Spanish second tier side Tenerife.
11. Forward – Ulises Davila
Davila is another of those who was immediately sent on disappointing loan spells. He arrived at Chelsea in 2011 and was sent straight to Vitesse. He trained predominantly with the reserve squad in Vitesse, proving Davila had no chance of making it at Chelsea.
He spent a few years on loan with various teams across the lower divisions of Spain and Portugal, before returning to his native Mexico permanently in 2015.
Chelsea should have cut ties with Davila as soon as they realised he was not good enough to make it into their feeder team, but he managed three more years as a Chelsea player before finally being let go.
Let'