When you hear the name John Terry, you might, perhaps understandably, immediately think of  the relentless meme that still to this day is doing the rounds: of the veteran defender hopping aboard the bandwagon of any celebratory event going – following his mind boggling decision to don his full kit and lift the Champions League trophy in 2012…despite being suspended for the final.
Embarrassing moments aside, let us not forget that oul' JT is arguably the finest defender to set foot in the Premier League (yep, sue me) and has a haul of career silverware sizeable enough to comfortably host a Jacobean banquet.
Rightfully, Terry assured his place as both a Chelsea and a Premier League legend, having made a staggering 492 appearances in the competition. Over his twenty year career, the player enjoyed some real golden moments, so here's seven of the best from his entire footballing career:
7. Making His First Team Debut Aged 17
Few would have guessed that when a fresh faced 17-year-old made his debut first team against Aston Villa in 1998, that he would go on to become one of the most important players in the history of the club.
Young whippersnapper Terry took just two seasons to earn a regular spot in the Chelsea starting XI after his debut, and rapidly became an invaluable member of the Blues contingent.
6. Being Made Captain of His Boyhood Club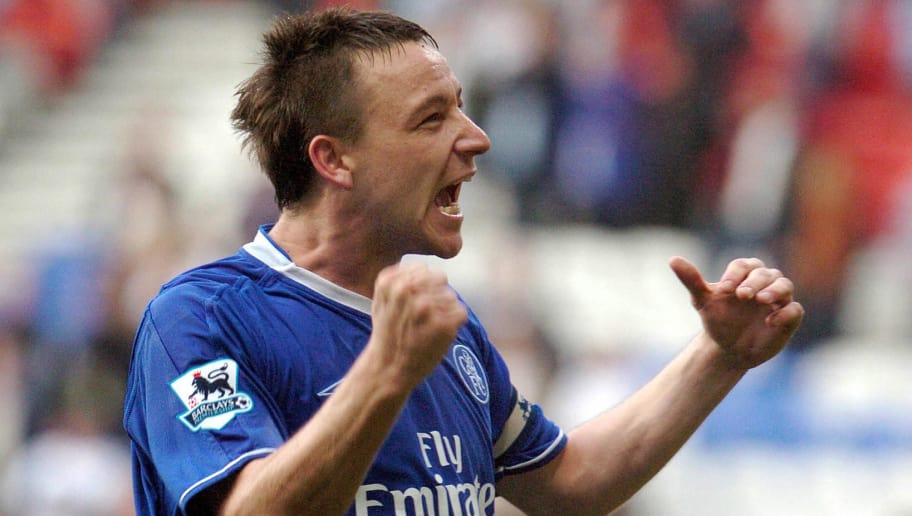 While Terry may have began his very earliest days in the West Ham United youth academy, there's no doubting that the man is Chelsea through and through.
Following Marcel Desailly's departure from the club at the end of the 2003/04 season, incoming manager José Mourinho handed the armband straight to Terry, believing the number 26 to have exactly the right attributes to lead his club forward.
JT never looked back, and kept hold of the captaincy until he left the club in 2017.
5. That Winning Goal Against Barcelona in 2005
Chelsea always enjoy a bit of drama when it comes to Champions League clashes against Barcelona, with the Catalan side often arguably getting the rub of the green. Stamford Bridge 2009, anyone?
Back in 2005, as Chelsea desperately searched for a winner in their second round tie against Barça, Terry became the hero, as his lofted header secured Chelsea a dramatic late win – with the Blues progressing 5-4 on aggregate having been on the brink of being knocked out on goal difference.
Terry scored 67 goals for Chelsea during his career, and this was by far the most important.
4. Winning Chelsea the League for the First Time in 50 Years
2005, Chelsea's centenary year as a club, was a landmark moment for the west London side.
With owner Roman Abramovich's big investments paying dividends, Chelsea surged to their first top tier title in fifty years, with Terry captaining the side to glory.
The Blues won the league again the following season, and Terry went on to win a further three Premier League titles as captain.
3. Being Named England Captain in 2006
While Terry's England career ended in controversial circumstances, captaining his country would no doubt rank highly on his list on favourite career moments.
JT was given the armband during the reign of Steve McClaren, who deemed the commanding centre half to be an ideal leader to replace former talisman David Beckham.
As we all remember, England never qualified for Euro 2008, and Terry was stripped of the captaincy before the 2010 World Cup, meaning he was never able to lead the team out at a major tournament.
2. Helping His Side Win Their First Ever Champions League
Yes, we all remember the full kit shenanigans. But the fact remains, Chelsea won the Champions League largely thanks to JT.
Terry was suspended for the final after a reckless, off the ball challenge on then Barcelona prodigy Alexis Sánchez in the semi-final second leg, but his previous seven performances in the competition were pivotal in his side's progression to the final.
In particular, the clean sheet that he and his defenders earned against Barcelona in the first leg demonstrated a masterclass in defensive play.
1. Taking on a Bold New Challenge With Aston Villa
Fair play to JT.
At the end of an illustrious career, when he'd won pretty much everything going, he could have opted to take a big money move to China, where he would have made an absolute fortune in his final years as a player.
Terry took the bold approach of attempting to help Aston Villa regain promotion to the Premier League, and while he ultimately failed – Villa lost last season's Championship play-off final to Fulham – he should be applauded for giving it a shot.
Let'