While Chelsea were far from also-rans before their multi million pound takeover in 2003, the Blues have unquestionably risen significantly in stature since Roman Abramovich's takeover – winning five league titles and a Champions League among other trophies.
Under their billionaire owner's guidance, the west Londoners paved the way for the Premier League to become a mega spending powerhouse, and have brought in a host of high profile superstars over the last fifteen years: Didier Drogba, Eden Hazard, Ashley Cole, Michael Essien – It really is quite an impressive list.
Of course, along the way there's been a load of signings that just haven't worked out; some have arrived at the wrong time of their career, others have dazzled in lesser competitions and failed to step up to Premier League level, while others have neglected honing their footballing talents in the pursuit of slightly more controversial – and illegal – hobbies *cough* Adrian Mutu *cough*.
So here's a list of seven players from the Abramovich era, who despite their previous glories, just didn't work out at Stamford Bridge…
7. Mateja Kežman
Word has it that back in his PSV Eindhoven heyday, the Philips Stadion would blare out the Batman theme over the PA system whenever Mateja Kežman scored. If it was for this reason alone that Chelsea signed the striker, I would not hold it against them.
Teaming up with his former teammate Arjen Robben (Yep, like Batman and Robin. Glorious.), it was hoped that the dynamic forward would bring his natural eye for goal to the Premier League.
Fresh off the back of a frankly ridiculous 105 goals in 122 Eredivise appearances, Kežman managed to net just four times in 25 Premier League outings, and was swiftly sold the following summer.
The saving grace was that he cost the Blues and Mr Abramovich a mere £5m.
6. Juan Sebastián Verón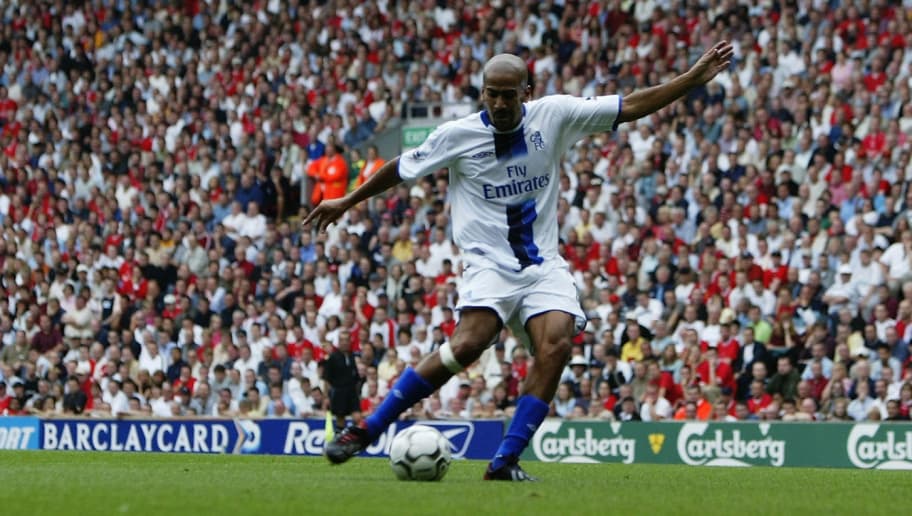 This was a big moment for the Blues, who signalled their intent to challenge Manchester United's dominance of the competition (alongside Arsenal) by signing one of their top players.
Veron was at one point most expensive signing in English football history (at £24.3m – you couldn't get Matt Miazga's big toe for that these days), but his United form tailed off, allowing the Blues to swoop complete a £15m deal.
Despite netting against Liverpool in a 2-1, Veron did very little else for the club, and spent the majority of his contract out on loan after suffering a series of injury problems.
5. Yuri Zhirkov
Once viewed as the heir to Ashley Cole's left-back throne, Yuri Zhirkov failed to live up to the hype and hoopla that surrounded his switch to Stamford Bridge
Coming in for a hefty £18m, the Russian defender was always an expensive backup option, and he failed to win over the Blues fans when deputising for the aforementioned England ace.
He wasn't truly dreadful, but his fee was sizeable in 2009, and he did little to warrant the expenditure with a series of uninspiring outings.
4. Tiémoué Bakayoko
Tiémoué Bakayoko was brought into to replace midfield powerhouse Nemanja Mati?, who was inexplicably sold to Chelsea's title rivals Manchester United.
Coming off the back of a title winning campaign with Monaco, £40m Bakayoko looked more than capable of slotting into Antonio Conte's midfield, but this proved to be far from the case. The Frenchman endured a torrid season with the Blues, and was completely unable to adapt to Premier League football.
Currently on loan at AC Milan, the 24-year-old is have a pretty dismal spell in Serie A too, and is unlikely to remain on the Chelsea books beyond the end of the current campaign.
3. Andriy Shevchenko
Oh dear, oh dear. What a massive flop Andriy Shevchenko was at Chelsea.
Allegedly signed by Abramovich without the consent of manager José Mourinho, the Ukrainian forward arrived at Stamford Bridge for then eye-watering £30m, and very quickly proved to be well past his prime.
Having excelled during a lengthy spell with AC Milan, the 30-year-old at Chelsea burnt out, and simply couldn't keep up with the pace of the Premier League. 
Shevchenko scored just nine goals in 48 league appearances, before being shipped off to his boyhood club Dynamo Kiev.
2. Fernando Torres
Chelsea's £50m signing of Fernando Torres from Liverpool has to be up there with the most disastrous signings of all-time.
Arriving at Stamford Bridge to the delight of Blues fans, who had plucked the most valuable jewel from Liverpool's crowd, Torres' slow start quickly turned into a goal drought, after which he never regained his former confidence, and scored a measly twenty goals in 110 league outings.
However, his dramatic late goal to send Chelsea through to the Champions League will never be gotten, and that was arguably worth a bob or two.
1. Adrian Mutu
Scoring four goals in his opening three matches, Adrian Mutu was shaping up to be a top quality signing, but things went downhill pretty rapidly from the Romania international.
The former Serie A star, signed by Chelsea in 2003, then went on a barren goal drought, and his quickly fell out with new manager José Mourinho who arrived the following season.
Mutu's Blues career ended unceremoniously to say the least, when he was released by the club after testing positive for cocaine – a real waste of what looked to be a promising talent.
Let'