Do you believe in curses? I thought I did, and then the Chicago Cubs won the World Series in 2016 and I had to accept that the Billy Goat Curse wasn't real and they'd just been a dreadful baseball team for 71 years. 
I'm all in on curses again though. I don't know how, or why, but someone's cursed the name 'Danny'. Specifically, someone's cursed the name 'Danny' in English football in 2018. Check it out. 
7. Danny Welbeck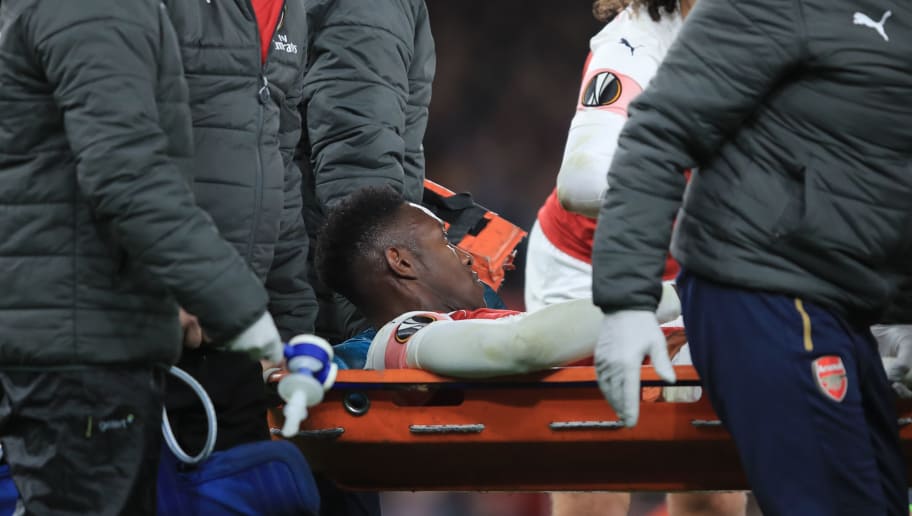 Did you see his ankle? I mean did you actually see it, with your eyes? It looked like his sock was filled with rocks and rubble, not bits of human being. He got fully and completely Final Destinationed, if Final Destination was only about breaking people's ankles instead of killing them. 
Two surgeries later, he's almost certainly out for the season – and doesn't have a contract beyond the summer. 
CURSED: YES
6. Danny Sturridge
Oh, Daniel. What have you DONE? [Note: Daniel Sturridge, please don't actually tell me what you've done, it would be legally admissible in court and a bad idea, I'm awful at keeping secrets.]
Yep, Liverpool's Daniel Sturridge has been charged by the FA for being a very naughty boy – specifically a naughty boy in relation to their gambling rules, allegedly passing on his information about his move to West Brom when the odds were still sky high. 
The Mail have teased a potential 'career ending' ban if he's found guilty, and…well, that's not good is it?
CURSED: YESitstillcountsasacurseifit'sentirelyselfinflictedshutup
5. Danny Rose
Remember when Danny Rose was the thing? The absolute dog's, England's next full-back superstar, the new Ashley Cole? Now he's Spurs' rotation option, sat on the bench (or currently on the physio's bench because, obviously, cursed) behind Ben Davies who is 1) not great and 2) worse, Welsh. 
At least there's no mystery about this particular curse – he did the one un-doable thing in north London. He pissed off Mauricio Pochettino. 
The lesson? Don't piss off Pochettino, or you'll get cursed and it might splash onto every single person with your name. Who is also in your profession. In the same league as you. It's actually very focussed. 
CURSED: YES
4. Danny Drinkwater
hahahahahahhahahahahahahahahah. 
NEXT! 
CURSED: YES, CURSES ARE THE ONLY THING THAT CAN PENETRATE THE SOLITARY CONFINEMENT CELL DANNY DRINKWATER IS HELD IN AT COBHAM. 
3. Danny Simpson
Danny Simpson played almost 8,000 minutes in Leicester's last three Premier League campaigns, including more than 2,600 when the Foxes won The Most Unlikely Sporting Thing In The History Of Time Since The Last Unlikely Thing That Happened In Sport Before That™.
He's played 20 minutes this season. He's fit (as much as you can be when you're not playing), it's just that Claude Puel doesn't think he's good enough – and to be fair to him, said as much when the transfer window was still open. 
Of course, this is the same Danny Simpson who was convicted of assaulting his ex-girlfriend in 2015, choking her. So. Hard to feel much sympathy, really?
CURSED: YES
2. Danny Ings
Yeah alright, he's fit for the first time since the invention of indoor plumbing and he's scored four league goals this season, but he's playing for Southampton. Nothing associated with Mark Hughes can flourish. 
CURSED: YES, AND IT'S PROBABLY THE REFEREE'S FAULT
1. Danny Ward
Even in today's hyper-inflated market, mid-table clubs who spunk £12m+ on a goalkeeper are intending that goalkeeper to be their new number one. Unless they're Leicester and that goalkeeper is called Danny, because Leicester are mad and Dannys are cursed. 
It's the best part of 18 months since he played a league game at any level, and 926 days since he played in the Premier League.
£12m. 
926 days. 
CURSED: YES BUT MAYBE NOT AS CURSED AS LEICESTER'S RECRUITMENT TEAM
Let'