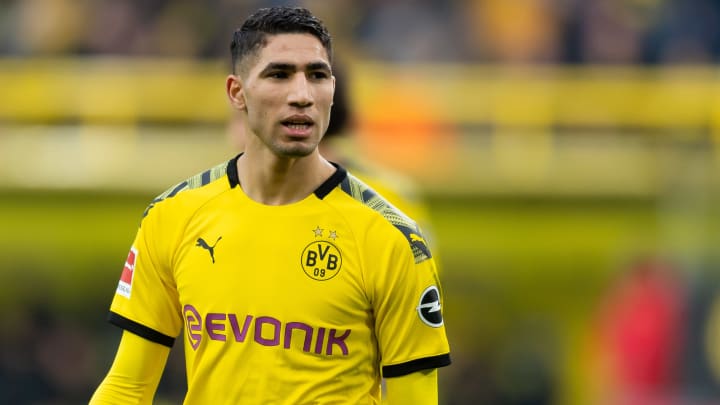 To coin a common phrase, two is company and three's a crowd.
And having starred on-loan at Borussia Dortmund over the past two seasons, Real Madrid's right-back Achraf Hakimi finds himself in the middle of a Premier League crowd – as 90min understands that Chelsea, Tottenham and Manchester City have all enquired about his availability this summer.
While it is anticipated that the Moroccan will find himself playing in the famous white colours of Los Blancos next season – despite Dortmund's desire to keep him in Germany for another year – there's a feeling of wonder when you think about what Hakimi could bring to England.
Hakimi sets up goals, he scores goals and he's pretty good at stopping the opposition from scoring goals – no wonder everybody wants him! But where, were he to join one of the three aforementioned Premier League clubs, would he fit in best?
Here's 90min's assessment of his options.
There's no doubt that Hakimi would be a fantastic player for the Blues – but would they necessarily need him at Stamford Bridge?
Undoubtedly, César Azpilicueta has been a magnificent club servant for the past eight years. As is the case with every footballer, however, his speed is on the decline as he ages into his thirties. In a league where there seems to be a pacy winger at every team – it may be time to prepare him for a bench role in Frank Lampard's dynamic-looking team.
And speaking of Lampard's style-of-play, Hakimi would be a great fit. His speed and dribbling abilities would fit right in with the 41-year-old's emphasis on moving the ball quickly, while he would certainly form a deadly combination going forward with the likes of Callum Hudson-Odoi and Christian Pulisic, as he has done with Jadon Sancho at Dortmund.
Yet while it would be a bold move to swoop for the Moroccan international, it really isn't a necessary signing, given Reece James' swift rise to becoming a first-team regular this season.
James is just one year younger than Hakimi and already looks at home playing in Chelsea's backline. While he hasn't racked up the same number of assists and goals that Real's on-loan defender has, it's fair to say he hasn't been afforded the same level of opportunities and game time.
And while the Englishman has been deployed in midfield this season, he's made it clear his preferred position is at right-back. Would his manager want to stifle his development by limiting his appearances at that spot through signing Hakimi, who would be in direct competition with him?
There's no denying that the strength-in-depth at the full-back position would be incredible if the Blues were to sign Hakimi. But it would also create a complicated situation that could easily become a tricky one for the club to navigate going forward.
Most Spurs fans will tell you they'll take anyone over Serge Aurier at the moment – so imagine their delight in being able to swap out the Ivorian for Hakimi.
The decision to sell Kieran Trippier and keep the former PSG defender has gradually looked worse as the season has gone on. Defensively, he can easily be exploited for his shortcomings, as Serge Gnabry found out in Bayern's 7-2 win earlier in the campaign. He's also proven to be unreliable in his decision-making – illustrated by his first-half sending off against Southampton.
And while he's a little better going forward, the 27-year-old often is inconsistent with his crossing, which can frustrate the likes of Harry Kane, who is clinical when he's presented with clear chances in front of goal.
Hakimi would certainly be an upgrade on both ends of the pitch. His attacking output is far superior, shown by his ten assists and five goals in the Bundesliga this season. Again, he would form a dynamic partnership with the likes of Lucas Moura or Son Heung-min, depending on who's popped up on the right wing.
But it would be his defensive duties where he would make the biggest difference. The 21-year-old's concentration and reading of the game would perhaps nullify the pressure put on Tottenham's backline, while his decision making and timing in the tackle would be a significant improvement on the current incumbent.
However, there's certainly a major question mark over whether Spurs would be defensively strong enough to cope with his marauding runs forward. It's Dortmund's structure – having a pair of defensive-minded midfielders to support the three centre-backs – which allows the Moroccan to push up field.
Given the current crop of centre-backs and defensive midfielders at Spurs, it doesn't appear that they have the same qualities – and it's not Mourinho's style either. Even without Aurier, the backline has been in all sorts of trouble this season – and greater investment would be needed to bring in more defensively capable players.
It's hard to see how the arrival of Hakimi would fix their issues.
City would probably be the best fit for Hakimi.
The 21-year-old certainly has the quality to play for the Sky Blues and is only going to get better; progress that will be accelerated from the guidance of Pep Guardiola.
After all, you would have to take into account Guardiola's excellent track-record with full-backs. It was at Bayern where he helped to bring through Joshua Kimmich, as well as his transformation of David Alaba into a world-class defender on the opposite flank.
His similar impact on Dani Alves and Jordi Alba at Barcelona only reinforces how Guardiola could elevate Hakimi's playing abilities to a far greater level.
Tactically, Hakimi would be a great fit for the Spaniard as well. His comfort in playing high up the pitch has been evident throughout his time in Germany, and his 85% pass completion rate emphasises his ability to distribute the ball with ruthless efficiency.
With Kyle Walker not in the manager's best books, the Moroccan would be a great heir apparent for the role. And even though they haven't looked the most secure during this season, the Citizens will undoubtedly improve at the back – once the club find the ideal partner for a fully-fit Aymeric Laporte.
So while Hakimi would be a great player for all three clubs, City would offer the best playing environment for him to thrive in – making the four-time Premier League champions the best possible option.
Let'