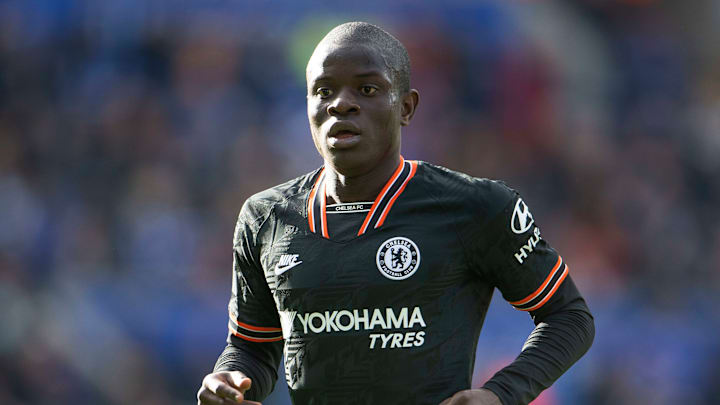 Frank Lampard dismissed suggestions that Chelsea will sell N'Golo Kante to raise funds for Ben Chilwell and Kai Havertz in the upcoming transfer window.
After a summer without spending as a result of their transfer ban, Chelsea have been making up for lost time with the big money acquisitions of Hakim Ziyech from Ajax and RB Leipzig's Timo Werner.
The Blues are not stopping there and have their eyes set on Bayer Leverkusen's highly sought after midfielder Havertz and Leicester left back Chilwell.
Although the Blues have the Eden Hazard transfer fee to tuck into, there may have to be exits to make way for anymore high profile arrivals at Stamford Bridge. However, Lampard emphasised the importance of Kante, suggesting he would not be on the departure list.
"In terms of N'Golo, I've seen some talk and reports about him and his future at the club," Lampard said, as quoted by the Guardian. "I've said it a lot of times about N'Golo – one of the best midfield players in the world. I would have loved to be able to play with him. He has everything.
"Coming back to Chelsea and having N'Golo Kanté is something I really want to appreciate and work with. Because of injuries it's been tough for N'Golo. It's nice to see him a little bit fresh. N'Golo is so important to us going forward. We need him regularly and hopefully we'll have that now."
Kante had spent a month on the sideline with a muscle injury prior to the suspension of football, and had initially been reluctant to return to training because of fears concerning the coronavirus.
However, Lampard revealed that his concerns have been addressed and the midfielder has been training as normal for some time.
"I was very sympathetic," Lampard told the Daily Mail. "He wanted to be clear with how it was going to work. That's been sorted out. He's been training with the group for a while. He's happy and as fit as anyone else."
Let'