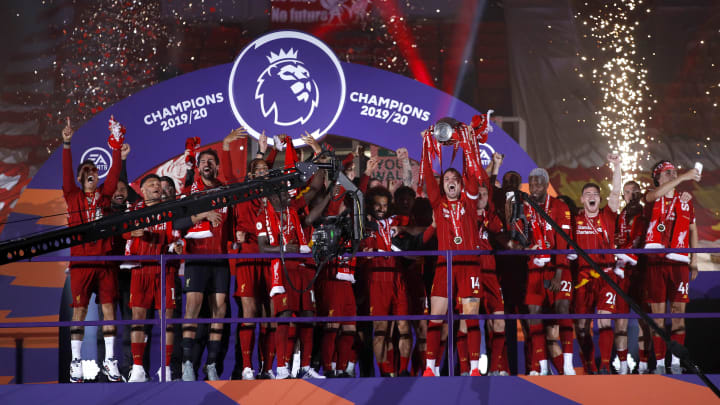 So, a nice solid win for Liverpool against Chelsea was all that was needed in the penultimate game of the season for Jurgen Klopp's side.
But thankfully for the viewers – unless you were caught up in Wednesday's Championship drama, which was also excellent – the two sides put on an entertaining spectacle, full of awesome goals and daft defensive play.
There was also some trophy lofting to be seen, if you hadn't heard.
Yes, the Premier League's Twitter account, it was certainly eventful.
Firstly, there was Naby Keita's thunderb***ard which got the fans talking…
…and then Trent Alexander-Arnold smacked a free kick in from range, jogging away to celebrate before the ball had even hit the back of the net.
Special footballer, is TAA.
Goals from Georginio Wijnaldum and Olivier Giroud followed, making it 3-1, before Roberto Firmino ended his long draught for a goal at Anfield in the 55th minute.
Sure, great for Bobby, but a few others thought Chelsea handed it to the Brazilian a little too easily…
Agent Kepa? No? OK, moving on…
Well, at 4-1 the game should have been done and dusted. But hang on. What's this? It's Blues substitute Tammy Abraham coming off the bench to net his 15th Premier League goal of the season!
Oh, and who's that he's brought with him from the touchline? My lord, it's Christian Pulisic, the USA international in a rich vein of form! And he's just scored! Blimey!
Liverpool surely couldn't throw away the lead in a game they were winning 4-1 ahead of the trophy presentation, right? RIGHT?!
Right. Alex Oxlade-Chamberlain slapped in a fifth to kill off Chelsea's revival and seal a 5-3 victory in their final league game at Anfield this season, and what a season it's been.
They might not have broken all the records that were available to them, but Liverpool won the Premier League in record time, and their dominance before football's hiatus caused by the Covid-19 outbreak will not be easily forgotten.
They sealed the title with seven games to spare, won 21 home games consecutively, at one point held a lead of 25 points over their nearest rivals, and took 61 points from their opening 21 matches. Those are all records, by the way.
So, Champions League success one season, a Premier League title the next. What's in store next term? Who knows, but let's hope a vaccine comes through sooner rather than later and we can get fans back at Anfield, Old Trafford, Stamford Bridge and other stadiums in the United Kingdom and around the world.
In the meantime, we'll leave you with a few posts from Liverpool's Twitter…
For more from Jude Summerfield, follow him on Twitter!
Let'