To understand why Joao Felix has not realised his true potential with Atletico Madrid, it is important to consider how he sees football and the way in which he likes to play it.
"The ball, she is precious," he said in an interview with The Players' Tribune during his breakthrough season with Benfica at the age of 19. "She is a gift. A gift to you, a gift to me.
"As I grew as a man, and as a player, I realised that's what I loved – to have the ball and to play wonderful, happy football. That's when I am at my best, that's when I am me."
Joao Felix would finish that campaign with 15 goals and seven assists in 26 Primeira Liga games, helping Benfica clinch the title and then became the world's most expensive teenager when he joined Atletico in a deal worth £113m, signing a seven-year contract.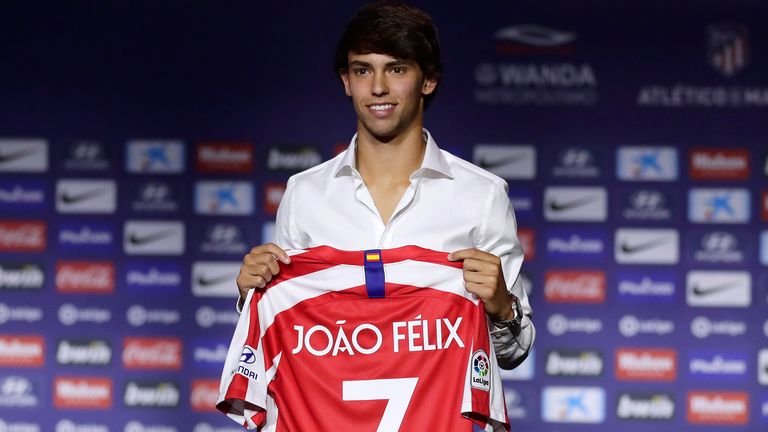 The move was greeted with huge excitement. Joao Felix had been identified as a potential superstar as soon as he arrived in Benfica's academy from Porto aged 15. "You could immediately see his skill," Jean-Claude Abeddou, a former Benfica scout, recalls to Sky Sports. "He was so agile when carrying the ball, he gave the impression that he was flying across the ground."
Joao Felix spoke of "finding his joy again" during his time at Benfica following a more difficult spell with Porto, who let him go in part for being too physically slight, but, in hindsight, it is perhaps little surprise he did not continue to flourish at Atletico.
Joao Felix, the elegant and enigmatic playmaker who idolises Kaka and relishes artistic freedom, and Diego Simeone, the relentless taskmaster who prefers to control games without the ball rather than with it, and to suffer and spoil in pursuit of victory.
It looked an awkward marriage and so it proved.
Joao Felix, a player intended to take Atletico to the next level, has in fact started only 42 per cent of their league games since his arrival at the club in 2019, with Simeone instead preferring forwards he deems more disciplined and diligent defensively.
"Talent is not enough, it needs the personality and drive to back it up," said the Argentine during Atletico's title-winning 2020/21 campaign, when Joao Felix was only trusted to start one of their final 12 games during the run-in.
Joao Felix had described Simeone as an important factor in his decision to join the club two years before that, the youngster encouraged by how he had helped Antoine Griezmann, Diego Costa and Radamel Falcao thrive earlier in his tenure.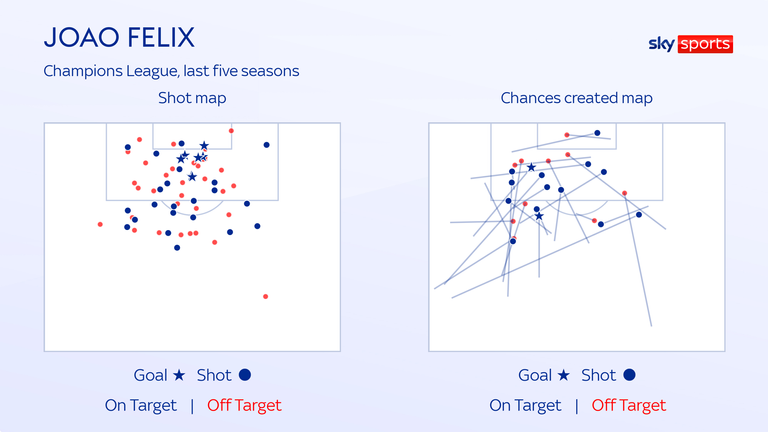 But their differing visions for the game soon put them at odds with each other. So much so that now, four years on from his arrival, the club's hierarchy speaks openly about their fractured relationship.
"Joao Felix is the biggest investment this club has made," said chief executive Miguel Angel Gil Marin last month. "I believe he is a world-class player, but for reasons not worth getting into now, the relationship between him and the míster is not good, nor is his motivation."
The result is that Atletico are begrudgingly welcoming offers – "the reasonable thing is to think he will leave," added Gil – and, for all his struggles at the La Liga club, where his performances, when given chances to play, have often lacked consistency, there are also plenty of reasons for his suitors to be encouraged.
He only turned 23 in November, for a start. There is still plenty of time for him to fulfil the Ballon d'Or-winning potential his former coaches still see in him. Then there is his record with Atletico, which, although not at the level most expected when he joined them, still shows his capacity to affect games.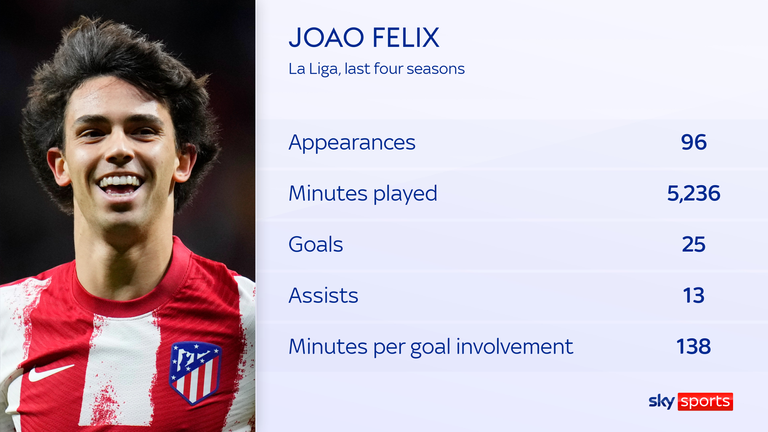 Indeed, while a total of 25 goals and 13 assists in 96 La Liga appearances may seem modest, it is worth noting the majority of those appearances have come as a substitute.
He actually averages a goal or assist for every 138 minutes played.
Even this season, when his relationship with Simeone has been at its most strained, his opportunities more limited than ever, Joao Felix has shown impressive efficiency.
There have been four goals and three assists in just 651 minutes of La Liga action so far. He ranks among the top seven players in the division for big chances created per 90 minutes (0.78) and shots on target per 90 minutes (1.66), while nobody has completed more through-balls per 90 minutes (0.69).
The Champions League group stage proved more difficult, but it is worth noting some of Joao Felix's most memorable displays in Europe have come against English opposition, most recently when he tormented Manchester United across two legs as Atletico clinched a place in last season's quarter-finals.
His versatility is another asset.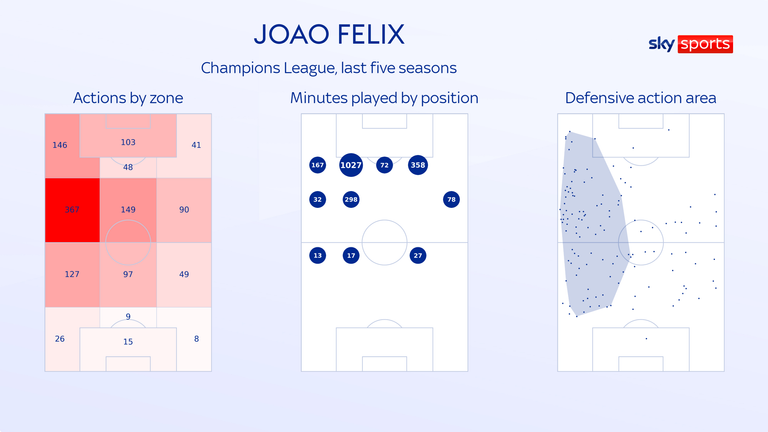 Joao Felix has primarily played on the left of a front two for Atletico. It was the same story after Bruno Lage took over midway through his breakthrough season at Benfica. But he is comfortable playing on either flank and can also operate at No 10 or as a false nine.
His suitors will also be excited by what he could produce in a team that allows him to play to his strengths. Simeone's Atletico average less than 50 per cent possession. Once they go in front, they tend to sit back and defend rather than try to extend their lead.
As explained by Rui Vitoria, the manager who gave him his debut at Benfica at the age of 18, that approach is less than ideal for a player who thrives with the ball at his feet, and with licence to express himself in the attacking third.
"I think he needs to play in a more dominant team, to play closer to the opponent's area," the former Benfica boss told Marca last year. "That would improve him as a player."
Abeddou agrees. "His next coach will have to let him express himself in a position that gives him more attacking freedom, the role of a free spirit," he says.
He would be far more likely to get all that at Arsenal, Chelsea or Manchester United, who average 57, 60 and 53 per cent possession respectively and seek, albeit with varying degrees of success, to impose themselves on their opponents.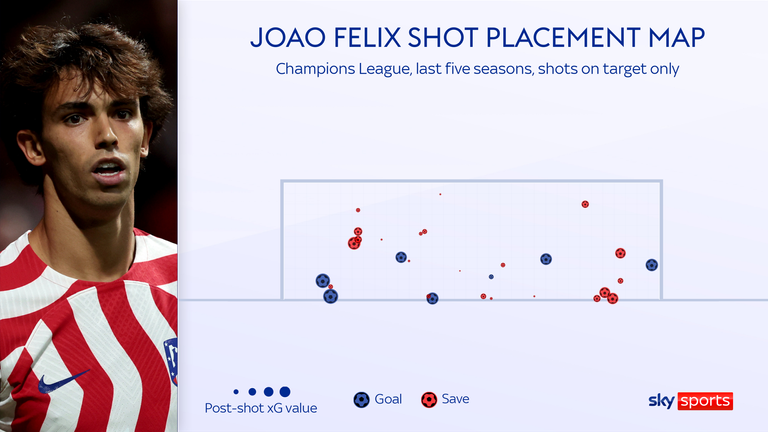 He would likely see far more of the ball in the areas where he is most effective too.
This season at Atletico, Joao Felix is attempting only 30 passes per 90 minutes and just 13 in the final third. By contrast, Martin Odegaard, Mason Mount and Bruno Fernandes, three players who operate in similar zones for their clubs, are averaging 46, 40 and 48, their totals including 23, 19 and 23 respectively in the final third.
The disparity in those numbers reflects Atletico's conservative playing style, and while Simeone considers Joao Felix's application to be a weakness – and certainly, his off-the-ball work would need to improve in the Premier League – others who have worked closely with him deem his personality and mindset to be strengths.
"Despite his appearance, Joao has a strong character hidden behind his introverted behaviour and doesn't let himself be walked on," says Abeddou.
"There could be 60,000 people in the stands and it hardly bothered him," said Lage when he was still a teenager at Benfica.
"He never had a bad face," recalled Joaquim Milheiro, his coach in Portugal's youth teams, in 2021. "There was never a worry he would start thinking about money or fame."
Instead, they all remember Joao Felix as an extraordinarily gifted young player who was at his best and happiest with the ball in his possession, and with the freedom to do the things that have long made him such a special talent.
"He is one of few players who is capable of magic on a football pitch," concludes Abeddou. It is just that the conditions need to be right. If his next club can provide them, they will surely be rewarded.
CyberSEO.net – ChatGPT autoblogging and content curation plugin for WordPress