Mykhaylo Mudryk is the latest young player to commit his long-term future to Chelsea, signing an eight-and-a-half-year deal at Stamford Bridge – but why are the Blues offering players such long contracts?
Chelsea owner Todd Boehly has spent over £400m on transfer deals since taking control at Stamford Bridge and a key feature of those deals has been the length of the deals signed by the players joining the club.
Marc Cucurella, Carney Chukwuemeka, Cesare Casadei and David Datro Fofana committed for six years, Wesley Fofana seven years, Benoit Badiashile seven-and-a-half-years, and Mudryk's contract runs until 2031.
So, what's the strategy? Why are Chelsea signing players to such long contracts? And are there any concerns about breaching Financial Fair Play rules?
Football finance expert Kieran Maguire spoke to Sky Sports News to explain…
How are Chelsea squaring this incredible outlay of money since Boehly took over?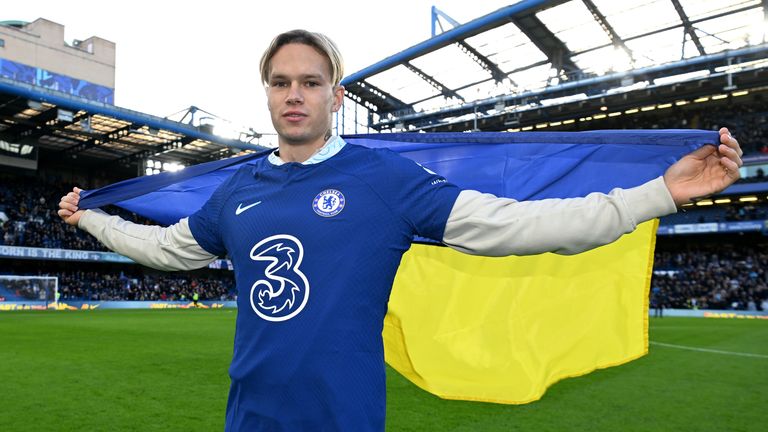 "What Chelsea have decided to do is to spread the cost of the players by signing them on very long contracts.
"So, by signing Mudryk on an eight-and-a-half-year contract, the way it is dealt with for accounting and FFP purposes is you take that £88m cost and you divide that over eight-and-a-half-years, and it works out as just over £10m-a-year.
"That appears to be the Chelsea strategy that they have employed over the last couple of windows."
So, that would be the same for Badiashile, who signed a seven-year deal at Stamford Bridge?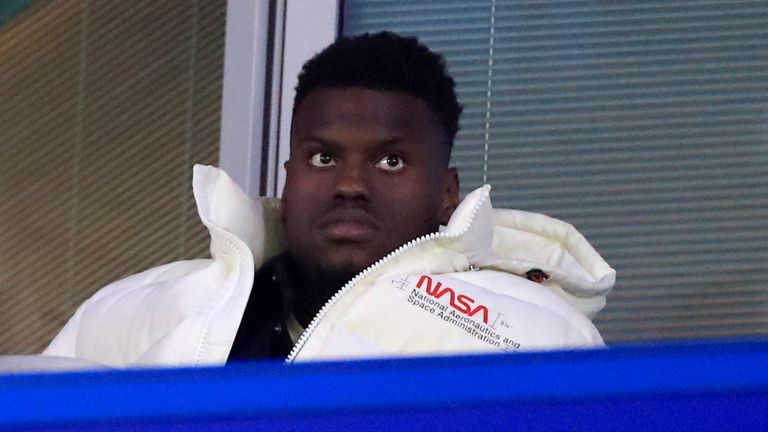 "Absolutely. It can work both ways for Chelsea.
"If the players really develop and are a huge success it gives the club protection for when other potential clubs come in and try to poach those players because they will still have many years left on their contracts.
"The downside is if the player doesn't perform then you've got the complication of they are likely to be on very high wages and you are committed to those wages for the next six, seven or eight years.
"Therefore, if it works it is fantastic but if not, it is weighing the club down a bit like an anchor slowing things down."
How far can this strategy stretch? Could Chelsea keep doing this, keep giving long contracts and therefore still be okay in terms of FFP?
"The issues will be that you are restricted to a 25-man squad as far as both the Premier League and UEFA are concerned.
"You can't just keep adding to the player roster and remember that each of these players is likely to be on a contract that is worth £7m, £8m or £9m-a-year.
"All of a sudden you've got more players on these big contracts and then your wage bill goes up by £50m or £60m, and with the new UEFA financial and sustainability rules, which are starting to come into effect from next summer, you are only allowed to spend 90 per cent, then 80 per cent and then 70 per cent on your income on wages, agents fees and your net transfer costs."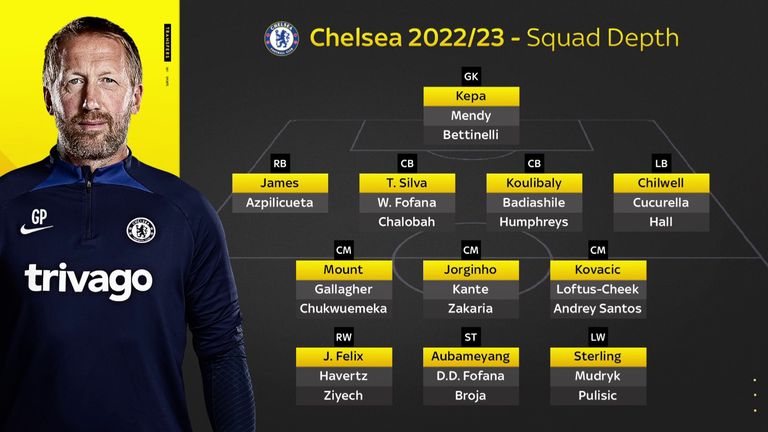 If Chelsea don't qualify for the Champions League next season, will that affect their spending in transfer windows to come?
"Yes, it would be restrictive if Chelsea are not in the Champions League next season.
"If we take a look at Chelsea when they won the Champions League in 2021, that generated around about €120m (£106m) in prize money.
"You'd normally expect to make £3m to £4m for each home game that is taking place at Stamford Bridge as well, and there will be bonuses from sponsors.
"Now, if you then compare that to the Europa League, for every £1 you make in the Europa League you are making around about £4.50 in the Champions League.
"So, there is a significant knock-on effect if you don't qualify."
Has the spending since Boehly took over surprised you?
New Chelsea signing Mykhailo Mudryk is paraded on the Stamford Bridge pitch at half-time of their game against Crystal Palace.

"It has surprised me to a certain extent because given that Boehly's background is that of private equity where the main aim traditionally is to hollow out the costs and to try to make a business more attractive to future owners.
"You would be surprised that it is committing itself to such a large commitment in terms of cashflow, in terms of both transfer spend and wages.
"So, I think it has taken a lot of people by surprise compared to the largesse we saw under Roman Abramovich.
"Remember, Chelsea lost £900,000-a-week under Abramovich over his 19-year period of ownership."
Selected incomings under Todd Boehly
Marc Cucurella – Brighton, £60m
Raheem Sterling – Man City, £47.5m
Kalidou Koulibaly – Napoli, £33m
Carney Chukwuemeka – Aston Villa, £20m
Wesley Fofana – Leicester, £75m
Pierre-Emerick Aubameyang – Barcelona, £10.3m
Denis Zakaria – Juventus, loan
Benoit Badiashile – Monaco, £35m
David Datro Fofana – Molde, undisclosed
Andrey Santos – Vasco da Gama, undisclosed
Joao Felix – Atletico Madrid, £9.7m loan
Mykhailo Mudryk – Shakhtar Donetsk, £88.5m
How relevant is FFP? Can clubs always find ways to skirt around FFP rules?
Gary Neville says new Chelsea signing Mykhailo Mudryk is joining an 'army of forwards' as the Ukrainian striker joined the club over Arsenal.

"There is an element of whack-a-mole in terms of every time we see a new series of rules come in, the accountants and the lawyers look at them from a forensic point of view and try to identify the stresses and weaknesses contained within those rules.
"Then what we tend to see is that the regulators try to respond to that.
"Certainly, looking at these rules I think there are opportunities for clubs to perhaps be what we might describe as a little bit creative with some of the ways that they acknowledge their costs, and therefore this is likely to lead to future conflict between the administrators of the game and individual clubs, who perhaps have a more fast and loose approach to the moral and ethical issues surrounding financial and sustainability rules."
Boehly's recruitment strategy analysed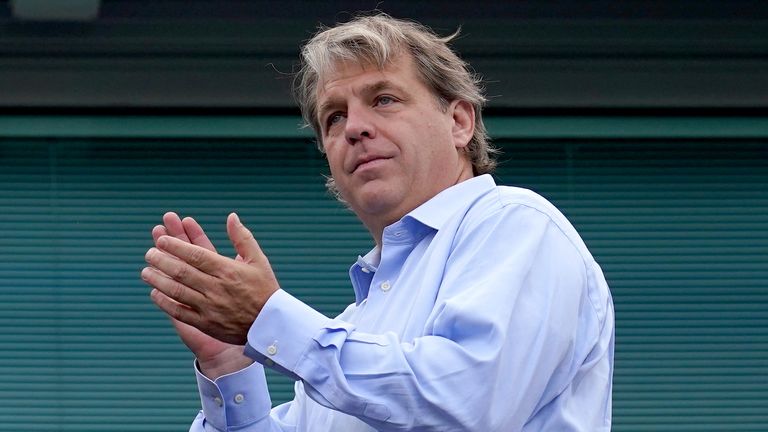 Boehly has now spent over £400m on players since taking ownership of Chelsea – but what is the master plan behind the huge transfer spending?
Co-owner and chairman Boehly has overseen the acquisition of 15 players since he took charge ahead of the summer 2022 transfer window, with Atletico Madrid loanee Joao Felix and Shakhtar Donetsk forward Mudryk the latest arrivals.
Among those incomings, there have been five teenagers and four more players aged 20-22, with Chelsea signing up some of Europe's top young talent, while also bringing in more experienced players such as Pierre-Emerick Aubameyang (age 33), Kalidou Koulibaly (31) and Raheem Sterling (28).
Their approach has been criticised in some quarters. Sky Sports pundit Jamie Carragher recently said Chelsea are further away from success than they were before the past two transfer windows, with Graham Potter's side currently languishing in 10th place in the Premier League and out of both cup competitions.
So what is the master plan behind their big transfer outlay?
Chelsea head coach Graham Potter was full of praise for his new signing Mykhailo Mudryk and believes he can be a fan favourite.

"They've got a twin-track policy," explains Sky Sports News chief reporter Kaveh Solhekol. "They go around the world buying up the best young players and they're going to carry on doing that but they want to buy ready-made players as well.
"Since Roman Abramovich left the strategy has been open to criticism. I'm not criticising it myself but there's plenty of people out there who criticise how they do business because it seems like any player that is offered, they're having a look at.
"Some of the signings have worked out, some haven't. Has Aubameyang worked out? Has Koulibaly? I'm not sure. It's been a little bit hit and miss and a lot of people say it may have been a mistake to dismantle the structure Abramovich had in place, with (former director) Marina Granovskaia, (former technical and performance advisor) Petr Cech…
"A lot of key people have left the club very quickly and it's going to take the new people time to get used to working at Chelsea and working with each other. There seems to be more people with a voice and different points of view. Add in a young, relatively inexperienced manager, and you can see why Chelsea are underperforming at the moment."
'I'm not sure where the joined-up thinking is'
European football expert Kevin Hatchard told the Transfer Show:
"Mudryk is extremely talented but he's not played a great deal of football. When Roberto Di Zerbi was at Shakhtar, he was the one that really pushed him in terms of his first-team chances. He saw his ability and saw his potential. Since then, he's really taken off.
"The real eye-catching moments have come in the Champions League. They shouldn't have been anywhere near qualifying for the knockouts given the disruption the team have had.
"The eight-and-a-half-year contract fits in with the policy Chelsea have of paying big fees for young talent but spreading it over a long period of time.
"With the style of play Graham Potter likes to play, there is no reason why he can't be successful.
"What I don't understand with Chelsea in general is that when Todd Boehly came in, he didn't say the club were going to sign young players and that this is the strategy.
"There's this unusual situation where they brought in Raheem Sterling, Kalidou Koulibaly for big money.
"Yes, they are proven talents, but if you then wanted to bring young talent into the first team, I'm not sure where the joined-up thinking is.
"The Mudryk deal again reflects that Chelsea are willing to get to a certain level financially and then offset for FFP over the course of a long contract."
The Boehly buys – players signed from the start of the summer 2022 transfer window
SUMMER 2022 (including current ages)
Marc Cucurella – Brighton, £60m – age 24
While Man City baulked at the price, Chelsea were prepared to pay the record-equalling fee for a full-back to bring Cucurella from Brighton on a six-year deal. The Spain international – who worked with Potter on the South Coast – was signed to provide competition at left-back and left wing-back with Ben Chilwell, who has been struggling with injuries, although 18-year-old Lewis Hall has also been used in those positions.
Raheem Sterling – Man City, £47.5m – age 28
The first men's signing of the Todd Boehly era, Sterling was described by Thomas Tuchel as Chelsea's "number one priority" when he joined on a five-year contract with an option for a further 12 months. The four-time Premier League champion has managed to score just four times in 15 Premier League appearances this season, though, and was surprisingly used in a wing-back role by Potter prior to the World Cup break.
Eddie Beach – Southampton, undisclosed – age 19
Young goalkeeper Beach joined Chelsea in June and has gone into their development squad.
Kalidou Koulibaly – Napoli, £33m – age 31
A long-term target for many Premier League clubs, Koulibaly joined Chelsea on a four-year contract and was seen as a ready-made solution after centre-backs Antonio Rudiger and Andreas Christensen both left the club on free transfers in the summer. He has been a first-choice for much of this season.
Omari Hutchinson – Arsenal, free – 19
Highly-rated attacking midfielder Hutchinson was a Chelsea youth player before spending seven years in Arsenal's academy. He returned to west London in the summer and was handed his senior debut by Potter in January against Manchester City.
Carney Chukwuemeka – Aston Villa, £20m – age 19
Boehly described Chukwuemeka as "one of the most exciting young players in Europe" after snapping up the teenager from Aston Villa and handing him a six-year contract. The midfielder has made five appearances off the bench in the Premier League this season.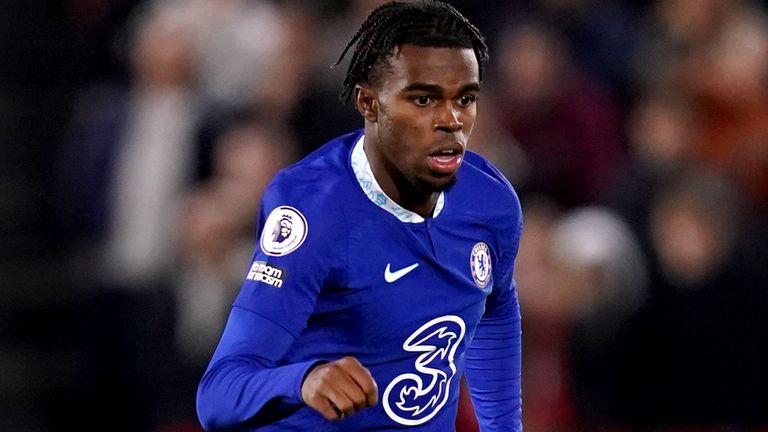 Cesare Casadei – Inter Milan, £16.8m – age 20
Casadei is one of Italy's most highly-rated young players and was signed by Chelsea on a six-year contract, with a view to the midfielder initially playing in the U21 squad.
Wesley Fofana – Leicester, £75m – age 22
After a series of bids, Chelsea finally landed "one of Europe's most exciting talents" – as Fofana was described by Boehly – with the Frenchman signing up to a seven-year contract but the start to his Blues career has been badly hit by knee injuries, limiting him to just two Premier League appearances for his new club.
Pierre-Emerick Aubameyang – Barcelona, £10.3m – age 33
Aubameyang had left Arsenal on a free transfer in January 2022 but Chelsea brought him back to the Premier League from Barcelona on Deadline Day in hope he would be an instant solution up front. His former connection with Tuchel from their Borussia Dortmund days may have appealed but Aubameyang hasn't been able to recapture his prolific form of the past, with one goal in his nine Premier League appearances. He was subbed off after being subbed on by Potter against Man City last week and unavailable for the FA Cup game three days later because of a back injury.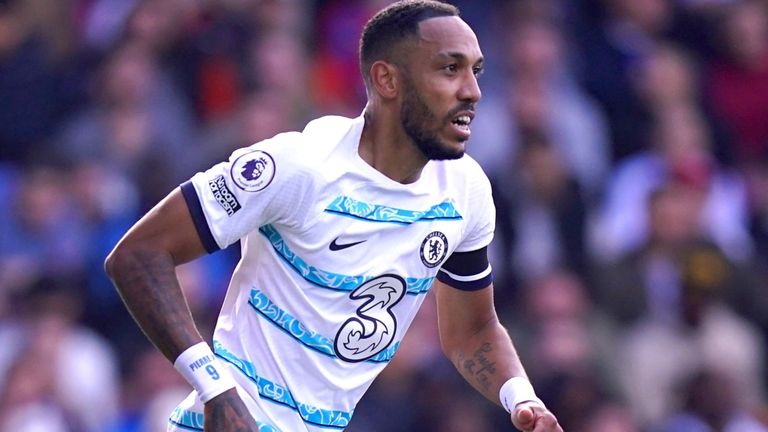 Denis Zakaria – Juventus, loan – age 26
Chelsea have an option to buy Zakaria at the end of his loan stint. The Swiss international had only joined the Italian side in January 2022 and made 11 Serie A appearances and was brought in after Chelsea saw a £43m bid for Ajax midfielder Edson Alvarez rejected in the final week of the summer transfer window. After featuring just twice before the World Cup, Zakaria has had more game time in recent weeks with Chelsea stretched by injuries in midfield.
JANUARY 2023
Benoit Badiashile – Monaco, £35m – age 21
Chelsea continued to hand out the long contracts when the January window opened, with Badiashile joining on a seven-and-a-half-year deal. The France centre-back missed out on the World Cup but is expected to have a big future and watched on from the subs bench in the FA Cup tie at Man City on Sunday.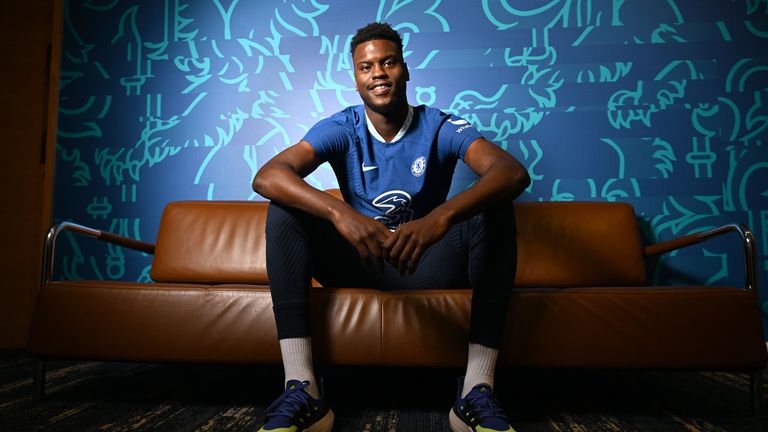 David Datro Fofana – Molde, undisclosed – age 20
Ivory Coast international Fofana signed a six-year contract with Chelsea, with an option to extend for a further year, after starring in Molde's Norwegian title-winning campaign in 2022. He made his debut during the FA Cup defeat to Manchester City, coming on at half-time.
Andrey Santos – Vasco da Gama, undisclosed – age 18
Box-to-box midfielder Santos made 38 appearances in Brazil's second tier with Vasco da Gama, where he became the club's youngest goal-scorer and helped them return to the top flight. Could be loaned out before he gets his first-team chance at Chelsea.
Joao Felix – Atletico Madrid, loan – age 23
Chelsea's January spending continued with the signing of Atletico Madrid forward Joao Felix for a £9.69m loan fee which will keep him with the Blues until the end of the season. Felix – who seemingly has a difficult relationship with Atletico boss Diego Simeone – has five goals and three assists in all competitions this season and Chelsea are hopeful he can boost their lacklustre attacking output.
Mykhailo Mudryk – Shakhtar Donetsk, £88.5m – age 22
Chelsea's latest arrival. The Blues swopped past Arsenal in the race to sign the highly-rated Ukraine international. They agreed a deal worth £88.5m with Shakhtar before the 22-year-old signed an astonishing eight-and-a-half-year deal at Stamford Bridge. Described as a "hugely exciting talent" by Boehly and the club's co-controlling owner Behdad Eghbali, he has scored nine goals and provided 13 assists in 23 Ukrainian Premier League appearances since his breakthrough at the start of last season.
CyberSEO.net – ChatGPT autoblogging and content curation plugin for WordPress