Noni Madueke did not arrive at Chelsea with the same level of fanfare as Mykhailo Mudryk but the 20-year-old is worth getting excited about. Just listen to those who have worked with him.
Ernest Faber, the coach who gave him his PSV Eindhoven debut aged 17, described him as a "great talent" and talked up his ability to absorb complex tactical information quickly.
Roger Schmidt, Faber's successor, labelled him "special" and marvelled at his technique and one-on-one ability. "He is also able to read situations and get into the right areas, with his timing," he said.
Ruud van Nistelrooy, Madueke's third and final manager at PSV, held him in similarly high regard, lamenting the loss of a "very important player" when he completed his £29m move to Chelsea.
Noni Madueke's individual coach, Saul Isaksson-Hurst, reveals what the player is like and what Chelsea fans can expect from him

But the most glowing assessment of all comes from Saul Isaksson-Hurst, a technical coach with a long list of clients who has worked with Madueke on an individual basis for the last two years.
"He is top," he tells Sky Sports. "For me, he is one of the best young forward players in Europe, easily. A lot of focus has been on Cody Gakpo at PSV, because of the World Cup, but Noni is up there.
"He is one of the best, if not the best, because he is so dynamic, so strong in one-v-ones, so technically gifted, so athletic.
"Really, he's got the full package.
"And then, getting to know him, you realise he's got that last piece of the jigsaw as well, the mentality, which many young players don't have. He is like a mentality monster. He is so driven.
"He's got such a clear vision of what he wants to do and he is willing to put the work in."
Madueke has been that way from an early age, his determination to realise his "vision", as Isaksson-Hurst terms it, leading him to swap Tottenham's academy for PSV at 16, leaving his family and friends in north London in search of a clearer first-team pathway.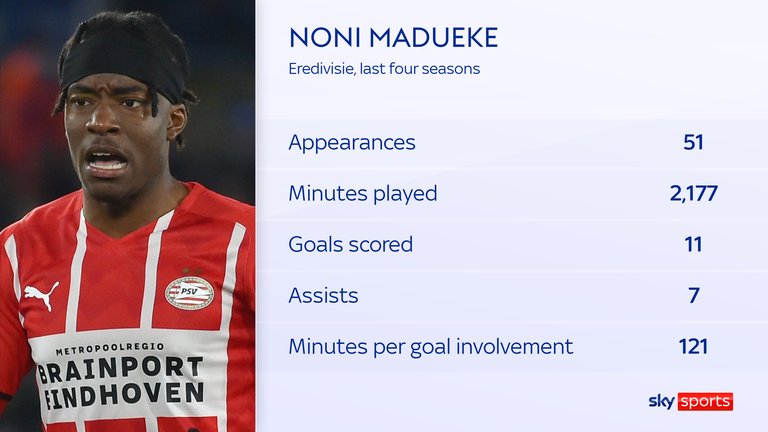 Madueke found what he was looking for in Holland, going on to make 80 senior appearances for PSV, a total which would have been higher if not for injury, and attracting interest from several clubs before eventually agreeing his return to England four years later.
Isaksson-Hurst believes Chelsea are now getting a player similar in style to another who once lit up Stamford Bridge. "When players come to me, the first thing is to look at their position and say, 'right, what are the game-changing moments of that position?'
"Noni is an attacking wide player who likes to play on the right as an inverted winger, so one of his 'super skills' is cutting in on his left side, like Arjen Robben, and shooting from the edge of the box."
Developing that Robben-like ability became a focus of Isaksson-Hurst's work with Madueke but, ever since their first sessions together in the summer of 2021, there has also been a concerted effort to build up his repertoire and make him more unpredictable.
"We worked a lot on challenging and trying to develop his 'super skill' but I also talked to him about the space it opens up on his right side, on his weaker foot, which he has done a lot of work on himself over the last few years," says Isaksson-Hurst.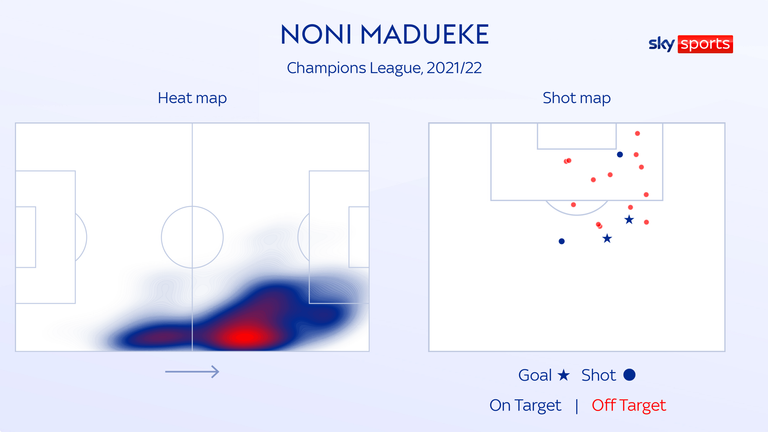 "You see when Robben played, defenders would overcompensate to make sure he didn't get them on the inside, but that opens up a lot of space on the outside, and we worked a lot on that, going in and then going out again, onto his weaker foot."
The fruits of that work could be seen in the opening game of last season, when PSV clinched a 4-0 win over Ajax in the Dutch equivalent of the Community Shield, with Madueke scoring two goals from similar positions but taken in different ways.
"One was coming in on his left foot and the other was coming in and then going onto his right," says Isaksson-Hurst.
"It was exactly what we had worked on. As a coach, I was buzzing and I was messaging him straight away telling him well done."
By then, Madueke had learned that an opposition defender showing him onto his weaker foot could be viewed as an opportunity rather than an obstacle.
"It's just one-v-one tactics, really," adds Isaksson-Hurst.
"People think these are just innate skills that players have, but you can actually break things down and work on them, and say, 'right, these are going to be our tactics for the game'.
"It's about having different tactics for different situations that are going to pop up in games, and then having the capability to solve those problems when they do. Having the capability to go on both sides is key because it makes you almost undefendable."
Madueke was already a formidable dribbler when he started working with Isaksson-Hurst but his average of 3.6 successful take-ons per 90 minutes in 2020/21 – already the highest in the Eredivisie – leapt to 4.8 per 90 minutes in the subsequent campaign.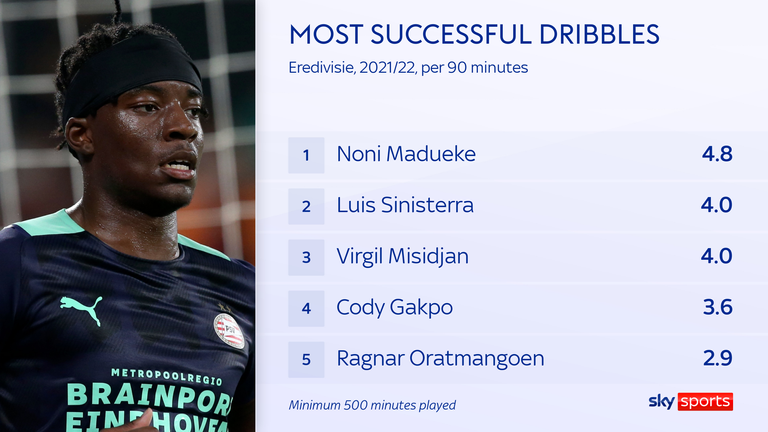 "His one-v-one play is out of this world in terms of his ability on the ball and his skill to move players, unbalance players and break opposition lines with the ball at his feet," says Isaksson-Hurst.
Madueke is helped, of course, by his constant desire to improve. "I think he is always developing because he is an elite performer," adds Isaksson-Hurst. "Every season at PSV, he kept wanting to learn.
"He's very analytical and very retrospective about what he does, so he's always getting sharper, he's always improving his ball-striking ability, his movements. That's mainly down to him, how hard he works and how determined he always wants to be."
It is something which, according to Isaksson-Hurst, who worked as a youth coach at Chelsea and Tottenham before moving into individual coaching, separates him from other players his age.
He is like a mentality monster. He is so driven. He's got such a clear vision of what he wants to do and he is willing to put the work in
"A lot of players contact me and say, 'I want to do this' or 'I want to do that', but the majority of them don't actually go through with it. Noni is willing to work really hard, to the point where you've got to say to him that he needs to calm down a bit.
"A good example is when he flew me out to Marbella for a week last summer before we came back to work together in London. His peers and other players were in the beach clubs in Marbella, partying every day, and he was with me, training.
"I had to say, 'look, you need to have at least one day off here, because you need to recover'.
"The battle was to convince him to do that, and that just shows you his mentality. The difference, that one or two per cent compared to what his peers are doing, is really fantastic."
Anton Toloui explains why Chelsea may no longer be able to sign players on such long-term deals, as UEFA plan to make FFP changes to player contracts

He arrives at Stamford Bridge having missed the first three months of the season due to an ankle injury and faces stiff competition for a place in Chelsea's front three. Their options include Joao Felix, Raheem Sterling, Kai Havertz, Pierre-Emerick Aubameyang, Hakim Ziyech and Christian Pulisic as well as Mudryk.
But head coach Graham Potter has already described him as "a player our supporters will like" and, despite his youthfulness, Isaksson-Hurst expects Madueke to make an instant impression.
"I think he'll go in there and make an immediate impact," he says.
"I think he's a bit different to what they've got already in terms of that right side. He is someone who is going to bring a lot of pace and dynamism and be able to break lines with the ball, going beyond players, and without the ball.
"And, on top of that, he is ready. He is ready to produce. He's had other offers while he's been at PSV and he wouldn't have gone if he didn't feel he was ready for it. He wouldn't have gone just to make up the numbers. He is ready to be in the starting XI."
CyberSEO.net – ChatGPT autoblogging and content curation plugin for WordPress