Chelsea have enjoyed a very fruitful January transfer window – but their winter spending spree has presented the Blues with a Champions League registration problem.
Chelsea are only allowed to register a maximum of three new players for the knockout stages of the Champions League, before taking on Borussia Dortmund in the last-16, starting on February 15.
The problem for Chelsea is that they signed eight new players in January.
Clubs have to inform UEFA of their desired squad changes by 11pm on Thursday, February 2. This deadline cannot be extended. UEFA will publish full list of ins and outs once they have been approved.
The three new registered players are allowed to have played for another club in European competitions this season, so being cup-tied for the knockout stages is not an option for any of the players.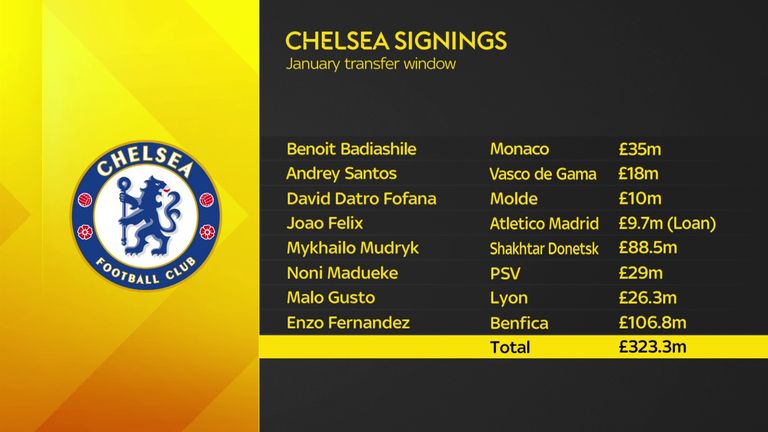 All clubs are limited to a 25-man squad and Chelsea used 24 players in the group stage, with only one of them – Jorginho – leaving the club in the January transfer window.
Out of the eight new players Chelsea signed last month, Malo Gusto is staying on loan at Lyon and Andrey Santos is waiting for a work permit.
That leaves Graham Potter with the dilemma of picking three players for his Champions League squad from this list of six:
Enzo Fernandez
Mykhailo Mudryk
Joao Felix
Benoit Badiashile
David Datro Fofana
Noni Madueke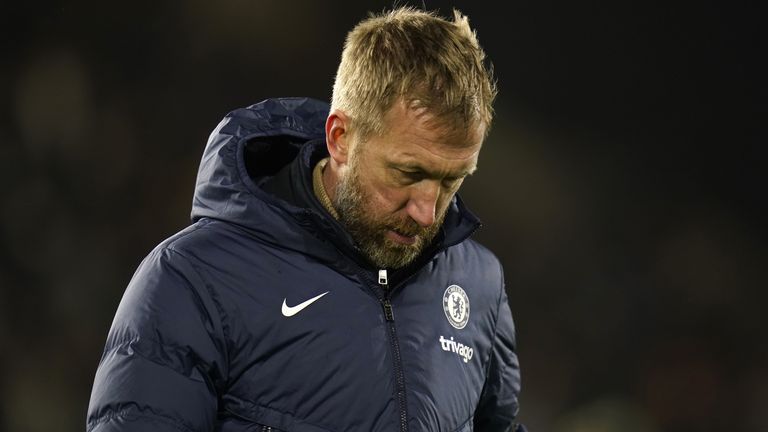 Meanwhile, all the new signings can be registered in Chelsea's Premier League squad as there are no restrictions on how many changes teams can make.
However, there is a 25-player limit, so some of the current Chelsea squad could make way for the new arrivals. The Premier League's registration deadline is also on Thursday.
The case for each Chelsea signing to be involved
Enzo Fernandez
Enzo Fernandez lands in Farnborough as he heads to Chelsea's training ground in Cobham after signing for a British record transfer tee of £10.6.4m.

The most likely new player to be included is record signing Fernandez, who arrived for £105m on Deadline Day. Putting it simply, you can't spend that much money on a player not use him in the Champions League.
Just imagine the World Cup winner's face if new manager Graham Potter was to tell him he can't play at Europe's top table just hours after arriving in west London!
Meanwhile, the loss of Jorginho to Arsenal on the same day means Chelsea are light on midfielders who can play in that deep role. Even with Ruben Loftus-Cheek, Conor Gallagher, Mason Mount and Mateo Kovacic to choose from, expect Fernandez to be registered.
Mykhailo Mudryk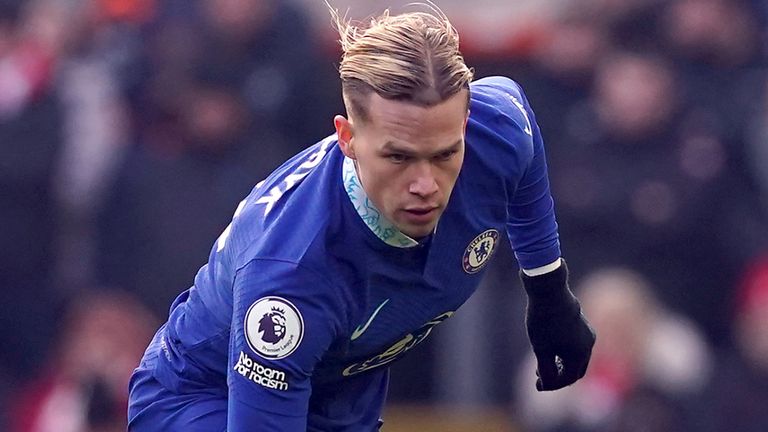 The pressure of the Ukrainian winger's £88m price tag also puts pressure on Potter to include him in the Champions League squad. In a brief debut cameo against Liverpool, Mudryk showed that he belongs at the highest level of football.
Meanwhile, the attacker featured for Shakhtar Donetsk in the Champions League group stages, scoring three times, so he is another player with a strong chance of being selected by Chelsea.
Joao Felix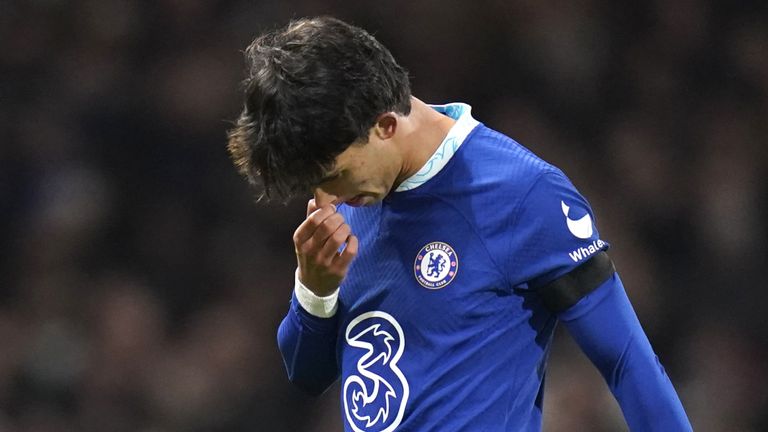 Here is where the dilemma kicks in. What do you do with Joao Felix?
With seven goals in 27 Champions League appearances, the Portuguese forward brings enough experience to the table to make him a useful option to have in the competition.
However there is no guarantee that Felix will be at Stamford Bridge next season – so should his morale be prioritised over a fellow young signing who will be there in years to come?
Furthermore, if Mudryk is registered – do Chelsea need another attacker in a strike force that includes Raheem Sterling, Pierre-Emerick Aubameyang and Kai Havertz?
That being said, the other side of the coin shows that Chelsea may only have Felix for a short amount of time, so they might as well use him as much as they can.
Benoit Badiashile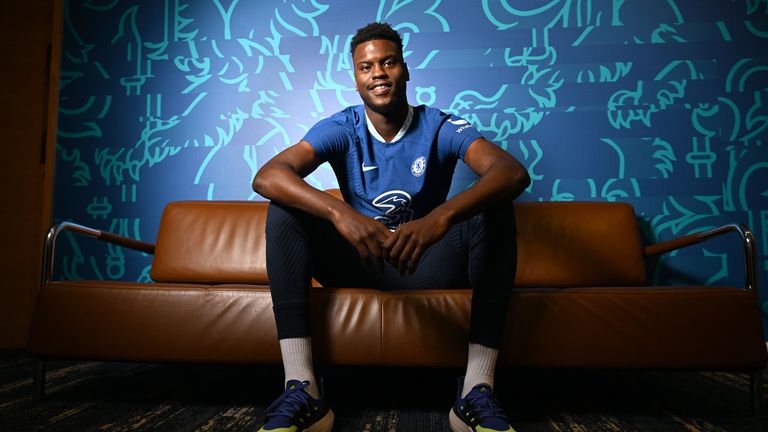 Don't forget what centre-back Badiashile can bring to the table, especially looking at his first two outings for Chelsea since his £35m arrival from Monaco.
The 21-year-old has started two Premier League games so far and Chelsea have kept clean sheets in both of them. It's a small sample size, but Chelsea's backline does look a bit more organised with the young defender in it.
What Badiashile will likely argue is that the inclusion of him, Fernandez and one of Mudryk and Felix means Chelsea are adding a defender, midfielder and an attacker to their Champions League squad, thereby bringing in a new spine to their outfield ranks.
But is the lure of including the three aforementioned players too big for Potter? With Kalidou Koulibaly, Wesley Fofana, Thiago Silva, Trevoh Chalobah, Marc Cucurella and Cesar Azpilicueta all able to play in a back three, Badiashile is looking at a lot of centre-back rivals.
Noni Madueke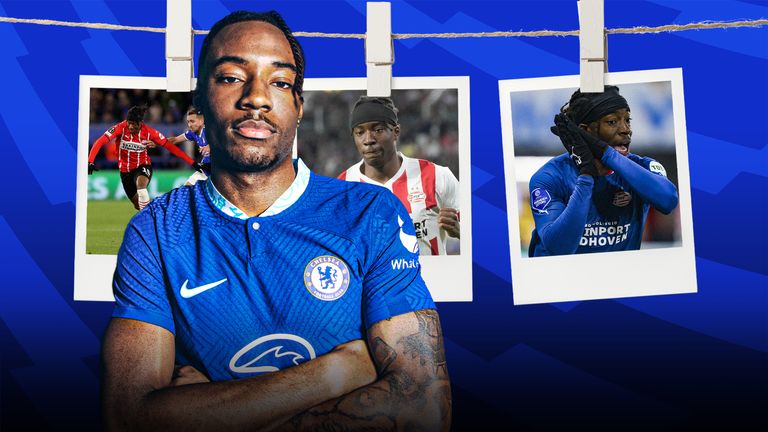 There is a lot of positivity around Madueke's arrival from PSV Eindhoven, with the 20-year-old possessing a box of tricks in wide positions that can harm any defence.
What lets the England Under-21 international down is that he has not played a match in the Champions League proper before – and with the likes of Mudryk and Felix as alternative options, Madueke looks like one of the players who will miss out, at least for this season.
David Datro Fofana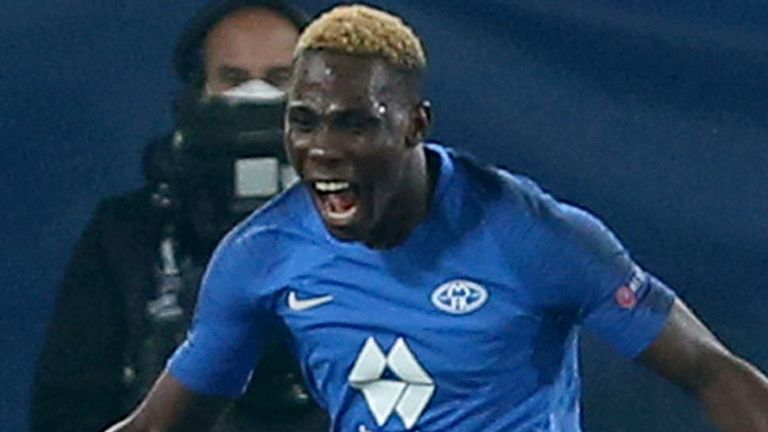 Fofana was the first January arrival for Chelsea in the window, but his limited displays since signing at Chelsea in the first week of the year means he is also set to be left out.
The striker is yet to make his Premier League debut for the club, despite being named in three matchday squads and with three forwards ahead of him in the queue, his Champions League involvement looks nigh-on impossible.
Is the big dilemma between Joao Felix and Badiashile?
Sky Sports News chief reporter Kaveh Solhekol:
"It's three from six. You would think Noni Madueke and David Datro Fofana will miss out as they're quite young.
"So you're left with four big-money signings: Enzo Fernandez, Mykhailo Mudryk, Joao Felix and Benoit Badiashile.
"Enzo Fernandez has got to be in the squad for £105m. Mudryk has to be in the squad for £88m. So you're wondering, is it going to be Joao Felix or Benoit Badiashile who is going to miss out?
"Joao Felix is a brilliant player on loan, how would he react to being left out? Then there's Benoit Badiashile, who has had a good impact so far as a centre-back. Would Chelsea want to go into the Champions League without him in their squad?"
Jamie Carragher shares his thoughts on Chelsea's recent transfer activity and what it means for the players at the club and Graham Potter.

Your views
Sky Sports' readers were asked in the Transfer Centre to pick the three Chelsea players they would include in the Champions League squad. Here are the best responses:
LW: Chelsea should leave Felix out of their Champions league squad as he won't be their next season, Madueke & Mudryk must be included as both are different makers. Enzo will be included as you don't spend that money on a player and not include them
Spekz: Enzo, Mudryk and Badiashile seem the most likely options. Felix, in my opinion wasn't a needed option anyway with the players we have that fit that profile. Badiashile seems to be forming a solid partnership with Thiago Silva and we need to keep building on that for sure.
Gazza: Seems pretty clear who they choose. Enzo Fernandez, Mykhailo Mudryk and Benoit Badiashile. One midfielder, one attacker and one defender. Felix – while decent for the 30 odd mins on his debut – is on a loan. Why spend that kind of money and NOT pick them?
Kaizer Idem: I think Chelsea should go with Fernandez, Mudryk and Joao Felix because our problem is a goalscoring issue, we have enough defenders coming back soon from injury.
JackF: I think the only obvious pick is Mudryk. Enzo has just arrived so they may want him to spend some time adapting to their play style (whatever that may be) first. Badiashile has looked good so far so he should go with Felix as Madueke and Fofana aren't experienced enough.
AG14: It has to be Mudryk as he's a great, skilful player which is what Chelsea need. Badiashile as Chelsea have an injury prone squad and he can cover the defenders and Joao Felix as he provides the Chelsea attack with Champions League experience
Matt: It is Graham Potter picking and we need to respect it but Enzo, Mudryk are a no brainers – they will easily get in. And then Badiashile, what a signing, so he should get the third spot
Dave: 100 per cent agree with Matt; Mudryk, Fernandez and Badiashile! Anybody looking past Badiashile clearly hasn't been watching our defenders recently… we definitely need him!
CyberSEO.net – ChatGPT autoblogging and content curation plugin for WordPress