Liverpool's Jurgen Klopp joked that he would only speak about Chelsea's spending with a lawyer present when asked how he felt about their record-breaking January transfer window.
Backed by billionaire chairman and co-owner Todd Boehly, the Blues signed eight players last month and smashed the British transfer record when they signed Enzo Fernandez from Benfica for £106.8m
Their £323 million outlay was more than the clubs in the Italian, German, French and Spanish top flights combined.
Chelsea head coach, Graham Potter says he will have to have 'difficult conversations' with players he will not be able to include in the Champions League squad.

When asked for his thoughts on the west London club's business, speaking in his press conference ahead of the Reds' trip to Wolves, Klopp said: "I say nothing without my lawyer! No, I'm joking.
"I don't understand this part of the business, like what you can do and what you cannot do. They are all really good players, so from that point of view, congratulations.
Football finance expert Kieran Maguire explains how Chelsea's high spending transfer strategy adheres to the financial fair play rules.

"I don't understand how it's possible, but it's obviously not for me to explain how it works.
"It will happen at some point that they will play well together, but how quick, I don't know."
Guardiola: I know what would happen if it was City
Manchester City have spent £1.1bn since Pep Guardiola was appointed in the summer of 2016, which has helped power them to four Premier League titles, four EFL Cups, the FA Cup and two Community Shields.
They have sold players for a total of £568.6m over the same period meaning their net spend stands at £487.9m. It places them fourth in the Premier League behind Arsenal (£572.5m), Man Utd (£827m) and Chelsea (837.9m).
The success City have had following their investment has drawn criticism within football and asked what he thought the reaction would be had City spent the amount Chelsea have done this season, Guardiola said: "I know what would happen.
"Being the fifth or sixth in the Premier League on net spend, we won 11 trophies, four Premier Leagues in five years. That's what really counts for us. What Chelsea have done, what the other clubs have done, is none of my business. We know exactly what we are working on.
"Of course, we need good players like Chelsea, Arsenal, Liverpool, United all believe that – without good players you cannot compete, not just here in the Premier League but in Europe. You have to spend. Now the market is 'wow', it's a lot.
"What Chelsea decide to do is not my business. There are regulations and rules, I don't forget, eight or nine teams sent a letter to the Premier League [for us] to be banned [in 2020, when City were found to be in breach of Financial Fair Play regulations].
Sky Sports News chief reporter Kaveh Solhekol explains how Chelsea secured the signing of midfielder Enzo Fernandez from Benfica for a British record transfer fee.

"That happened to us when we are the fifth team in net spend in the last five years when we were winning titles. This is the reality."
On whether he thinks there is criticism solely for City, Guardiola added: "Where we come from, for sure, definitely."
Chelsea's record January: £323m spent; long contracts; paperwork problems
Chelsea smashed the British transfer record, spent more than the other four big leagues combined, and had hits and misses in an incredible window…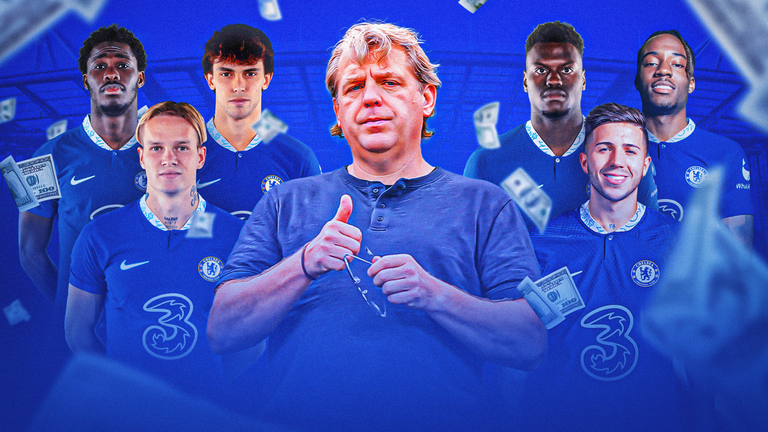 CyberSEO.net – ChatGPT autoblogging and content curation plugin for WordPress