Chelsea head coach Graham Potter says critics do not know 'anything about anything' if they think he has got where he is in his career without getting angry.
The Blues boss was questioned for the low-key reaction to his team being denied a late penalty in the Premier League draw against West Ham on Saturday when Tomas Soucek made a diving stop to handle the ball.
A number of former professionals were left surprised by Potter's considered reaction to what had appeared to be an incendiary decision, going on to suggest his players would have welcomed more emotion from their coach.
In his pre-match press conference before Chelsea's Champions League tie against Borussia Dortmund on Wednesday, Potter was asked what does make him angry and replied: "Apart from these questions? I must be careful not to get into a discussion with the media."
FREE TO WATCH: Highlights from West Ham's draw against Chelsea in the Premier League

He continued: "Of course, I get angry. I am a human being just like you. But I choose to conduct myself the way I choose to conduct myself on the side.
"The same media talking about me [needing to be] more angry are then running stories about the problems of referees in grassroots football and don't see the connection.
"It is an emotional thing. I have a responsibility to myself, Chelsea and the game to act the right way for me.
"If you think you can start a coaching career in ninth tier of English football, in the Northern Counties, and get to this point now with Chelsea in the Champions League without getting angry or just being nice, I would suggest that you don't know anything about anything."
Potter was speaking while preparing to take charge of a Champions League knockout game for the first time in his career and revealed his excitement at the challenge ahead.
He said: "Absolutely, it would be strange if I wasn't because this is the knockout stage of the Champions League, the pinnacle in terms of the game. It is a great test against a fantastic team in front of 80,000 people, a wonderful occasion. We are all looking forward to the match."
Graham Potter joked it was a good save by Tomas Soucek on Saturday

With Chelsea having won two of their last 12 games in all competitions, they come into the game in poor form and still trying to integrate the many new signings.
"We have the squad we have, a Chelsea squad we are really excited about, but it is challenging and there is work to do. Whenever forming a new group, it takes time to understand each other and work out what make us tick."
'The most obvious penalty you will see'
Sue Smith on Soccer Saturday:
"I have no idea why this wasn't given as a penalty. The only thing I can think of is, as the player is falling to the ground, the player is putting his hand down to support himself.
"But Soucek blatantly puts his hand out to stop the ball. It's the most obvious penalty you will see. I'm really surprised that wasn't given."
Azpilicueta: It's mad that we didn't get penalty at West Ham
For his part, Azpilicueta did reveal being denied a penalty at West Ham on Saturday had angered him. What did he think of Potter's reaction to the decision?
"The truth is, I was angry when I was watching the iPad on the bench. It was a mad decision that we were not awarded a penalty. That's the truth. It was unfair for us not the get the chance to win a penalty.
"But I've been with different managers who have expressed themselves in a different way but there's nothing more that I can add."
Dermot Gallagher explains and analyses why he believes Tomas Soucek's handball against Chelsea should have been given as a penalty.

The Chelsea captain joked the club are yet to do the traditional karaoke initiation for their many new signings that arrived in January – mainly due to the fact a number of them are ineligible to play for the club due to registration reasons.
Potter left out defender Benoit Badiashile, Noni Madueke and David Datro Fofana from his 25-man Champions League squad due to UEFA rules stating only three new players can be added to the roster in between the group stages and knockout rounds.
"Tonight was a good day to do it, but we left a few behind in London!" said Azpilicueta about when the initiations will take place.
"We will leave them for a Premier League game. We prefer to do it all in one. The queue is long!"
Potter: Nothing in Mudryk-Cucurella spat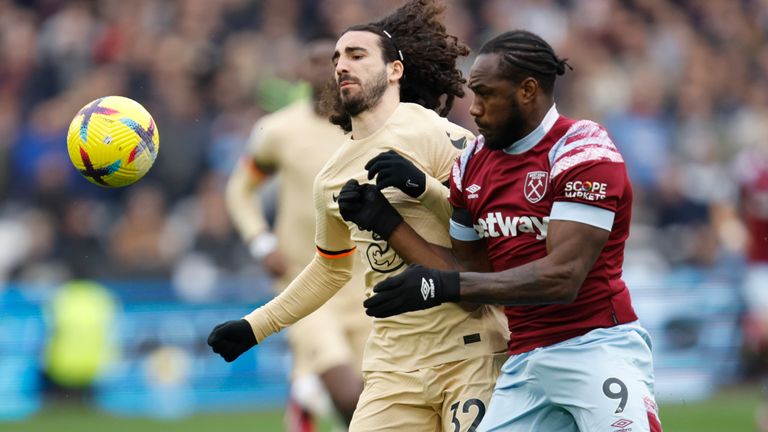 Potter added there are no truths in a spat between left-sided duo Mykhailo Mudryk and Marc Cucurella after some suspicious activity from the former's social media account.
Mudryk's Instagram account liked an image which depicted Cucurella deliberately ignoring the Ukraine winger in favour of other Chelsea players – but Potter has put to rest any claims of unrest.
"There's no problem in terms of anything sinister at all," said Potter. "If anything it's just team-mates trying to understand each other, so it's quite a common problem in terms of when to pass.
"West Ham make it difficult for the wide-men to get it to their feet. It's no problem, just the understanding is the challenge, which is quite easy when you recognise the context."
CyberSEO.net – ChatGPT autoblogging and content curation plugin for WordPress