Gary Neville says Graham Potter is under "massive pressure" at Chelsea, but the owners must hold their nerve after backing the manager since his arrival.
Despite spending hundreds of millions of pounds on a raft of new players in the January transfer window, they have found themselves in stuttering form and languishing 10th in the Premier League table.
Their season hit a new low on Saturday when they were beaten 1-0 by bottom side Southampton at Stamford Bridge, leading to boos from the fans at full-time.
It has been a baptism of fire for Potter since his arrival from Brighton, but Sky Sports pundit Neville says the Chelsea hierarchy must continue to back their under-fire boss.
Speaking on the latest Gary Neville Podcast, he said: "Potter is under massive pressure. You can see it in his face. The chances they missed in the second half and the boos at the end of the game, felt a little ominous.
"I think they'll want to do the right thing, the Chelsea owners. They've sacked a manager very early in the season in Thomas Tuchel, they've owned their new manager, they've brought recruitment assistants in alongside him, so they've invested heavily in Graham and his team… but they have to hold their nerve if they want to see it through.
"But I suspect that nerve is being tested, as any owner's would be when you've spent that level of money and you're losing games at home to the (side) bottom of the league.
FREE TO WATCH: Highlights from Southampton's win against Chelsea in the Premier League

"He's a fantastic coach but you feel watching Potter he's a measured man, he's a good coach… you get the idea he'd like to build a pattern of play with a group of players on a consistent basis and he's got 33 of them staring at him down the barrel saying 'play me'.
"And these aren't junior players, they're senior internationals and I can't imagine what it must be like to have 33 players. I was a manager for a very short period and we had a squad of 22, 23 at Valencia and you're looking at 11, 12 players every week thinking 'I'm not going to play you'.
"He's got 22 players who are not going to play. If they're all fit – how do you even get them all into a training session?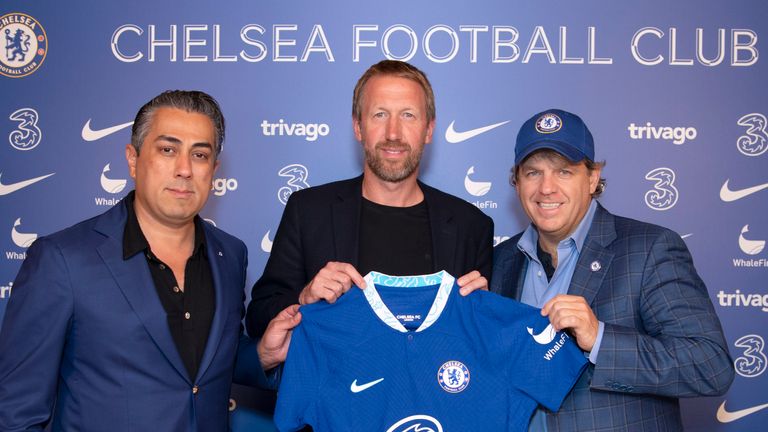 "A good training session you'd have 16-20 players. If you've got 22 players, five of them are training with the reserves or on their own. That isn't right. They needed to unload players off Graham Potter to take the pressure of handling all those players that are expecting to play every single week.
"I've used the word chaotic and I think it has been chaotic in the first six months of the Boehly ownership. I won't change my mind on that. They've invested heavily, they're putting their money where their mouth is and are saying all the right things. But at this moment in time, it won't be a successful project when you have 33 players all looking at the manager and a manager who wants to build a measured project.
"It feels a little bit conflicted with what Potter would ordinarily be really strong at and what the ownership seem to want in respect of filling a squad and accumulating players of that sort of volume."
Potter: I'm not the problem at Chelsea
Chelsea boss Graham Potter was disappointed by his side's 1-0 loss against Southampton at Stamford Bridge, admitting his men were below par in the first half

Graham Potter insists he is "not the problem" despite Chelsea's season sinking to a new and alarming low as they were beaten by Southampton.
"After a 1-0 defeat at home, any criticism you get is understandable," said Potter. "We've had a tough period and lots of challenges in terms of integrating young players in the Premier League.
"When you don't get results, it can be tough. That's how it is. Some people will think I'm the problem. I don't think they're right, but that doesn't mean they can't articulate their views.
"We took a step back in terms of our performance in the first half. The response in the second half was good but not good enough."
When asked if he was still the man for the job, and asked to explain the delay to speak to the media, Potter said: "There's no conspiracy. Sorry, I can't give you that.
"I always come in and speak to you guys and understand the questions. When we've lost 1-0 at home to Southampton, it isn't good enough because of the results we've had recently."
Merson: I don't see it changing
Paul Merson says Chelsea are a team of individuals and does not see their bad run of form stopping anytime soon after defeat at home to Southampton

Sky Sports' Paul Merson:
"First half, Southampton were outstanding. They were closing Chelsea down, the better team in the game, lot more energy, knew what they were doing, scored a very good goal. Second half (Raheem) Sterling came on – different game. He was willing to make runs and he had two good chances both off the line.
"But Southampton worked so hard. When Perraud got one off the line it was like he'd scored a goal. They're cuddling each other. There seemed to be a togetherness. They were all cuddling the manager at the end. They deserved it.
"One is a team. The other is an absolute team of individuals. I've never seen anything like it. The players they've brought in – take away (Enzo) Fernandez because he's a top holding midfield player – are all individual footballers.
"They all get on the ball and want to beat five or six players and there's no passage of play. It was only when Havertz and Sterling came on that there was a little bit of movement. (Mason) Mount gets eaten up because he passes the ball and the others are all dribbling it, so there's no phases in the game. I was very disappointed. It was poor.
"I don't see this stopping. They've bought a lorry load of individuals I'm afraid. It's all dribblers.
"It's only when Havertz comes on a starts playing with Felix and Sterling there are passages of play. I think this is a massive, massive, massive interview now coming up for Graham Potter.
"Chelsea fans will be absolutely fuming. They won't stand for this, oh Southampton have got a new manager so that helped them… they're not worried about that. If you don't beat Southampton at home, their goalkeeper has to be the best player on the pitch. He wasn't."
CyberSEO.net – ChatGPT autoblogging and content curation plugin for WordPress