The support from Chelsea's owners towards Graham Potter has been unequivocal throughout his troubled time in charge, but Sunday's defeat at Tottenham was enough to prompt even the manager to admit that backing cannot last forever.
Speaking to Sky Sports after seeing his side lose 2-0 at the Tottenham Hotspur Stadium – extending their record to one win in their last 11 games – Potter said: "If results aren't good enough – which they aren't at the moment – you can't rely on support forever."
There was more to come from the 47-year-old when he faced the written media shortly afterwards, when he acknowledged: "I haven't done enough at this club to have too much good faith."
Potter's honesty was refreshing yet entirely in keeping with his approach since leaving Brighton to spearhead Chelsea's new era in September. The Englishman hasn't shied away from publicly addressing the problems he and his team have encountered and has even tackled suggestions over Chelsea's underperformance being linked to his perceived lack of anger.
But they weren't the only quotes to catch the eye in the wake of Spurs' win, after which Potter pointed to the difficulties experienced by Mikel Arteta at Arsenal and Jurgen Klopp at Liverpool when answering a question over whether he accepts Todd Boehly and the rest of Chelsea's owners could eventually withdraw their support for him.
Following a 2-0 defeat to Tottenham, Chelsea boss Graham Potter says their form is down to him and is very supportive of his squad who he believes are trying their best to turn around their tough situation

"We were talking before the game about watching the Arsenal All or Nothing [documentary]," he said. "Two years into Mikel's reign, he's close to getting the sack and people are wanting him out and it's a disaster. Obviously now things have changed a little bit but that's just the way it is.
"If you look at Jurgen [Klopp]'s situation, they [Liverpool] haven't got the results and all of a sudden people want him out. That's just the nature of football."
Potter's decision to highlight Arteta and Klopp was interesting, given they have both been used by those supportive of Potter as examples of the success managers can enjoy if they are afforded time by their club.
But are their situations comparable? Well for a start, Potter has won just nine of the 26 matches he has taken charge of as Chelsea boss, whereas – over his first 26 games at Liverpool between October 2015 and January 2016 – Klopp won 12.
The statistics make even better reading for Arteta. After replacing Unai Emery in December 2019, the rookie manager took charge of 28 games until the end of the 2019/20 season, winning 16 of them.
FREE TO WATCH: Highlights of Tottenham against Chelsea in the Premier League on Sunday

Liverpool and Arsenal were also far more effective in front of goal during the beginning of their managers' reign than Potter's Chelsea, with Klopp's side scoring 41 and Arteta's 45 during that time. By comparison, Chelsea have scored 25.
The lack of statement wins has also hamstrung Potter's time at Stamford Bridge. He can claim to have led his side to home and away wins against AC Milan in the Champions League group stage, but the 2-0 loss at rivals Tottenham followed an away loss at neighbours Fulham, a home defeat to Arsenal and three successive losses to Manchester City – all without scoring a goal.
Meanwhile, Klopp's first 26 games at Liverpool saw him lead the Reds to away wins against Chelsea and City, plus home victories against Manchester United and Everton, not to mention a dramatic Europa League win over Borussia Dortmund at Anfield.
Arteta also led Arsenal to eye-catching results during his early days at the helm, achieving successes against United, Liverpool and City at the Emirates. As with Klopp, those wins showed the Spaniard was capable of preparing his side to compete with – and beat – their biggest competitors, while Potter is still trying to prove he can do that at Chelsea.
Arteta and Klopp also achieved those results after taking charge of teams at a lower ebb than Chelsea were when Potter arrived. When he walked through the door to replace Thomas Tuchel, he was taking over a side that had finished third in the Premier League the previous season, won the European Super Cup and Club World Cup while also reaching both domestic cup finals, and won the Champions League just 16 months earlier.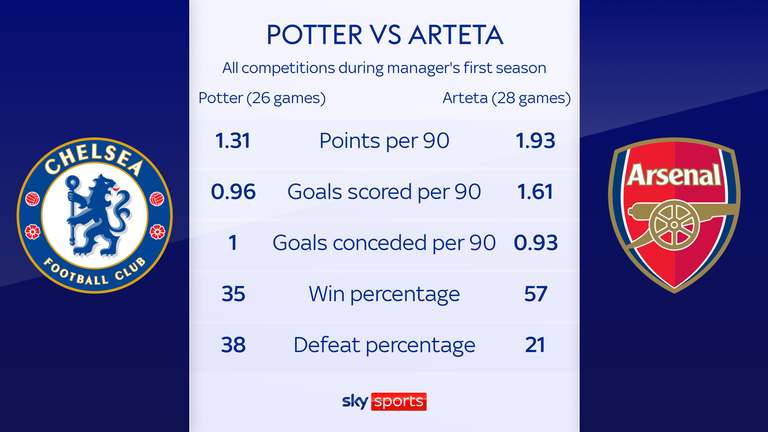 In Arteta's case, he took over an Arsenal side that hadn't won a trophy in over two years and had failed to finish in the top four of the Premier League for three. The scene greeting Klopp was even more testing, with Liverpool without a trophy in three years and having earned just one top-four finish in the previous six seasons.
To be fair to Potter, he specifically mentioned the pressure Arteta was under during his second full season at Arsenal and the scrutiny Klopp is now under due to Liverpool's struggles.
But again, context is needed. Arsenal began the 2021/22 campaign in terrible form, losing their first three Premier League games by an aggregate score of 9-0. But the north Londoners followed that up with a 10-game unbeaten run, while Arteta also had the small matter of the FA Cup he won at the end of his first season in charge to fall back on.
As for Klopp, the outstanding success he has enjoyed at Anfield is the perfect answer to any criticism that may be currently levelled his way, with the German overseeing a first Premier League title, plus a Champions League, Club World Cup, European Super Cup, FA Cup and League Cup during his eight years at Anfield.
Klopp can also point to the back-to-back Bundesliga titles he won with Borussia Dortmund, while Potter's only previous trophy was the Swedish Cup he won with Ostersunds. Success is of course relative and Potter did impressive work at all his previous clubs, but his lack of silverware – both with Chelsea and elsewhere – leaves him vulnerable to accusations that he lacks the necessary prestige and experience.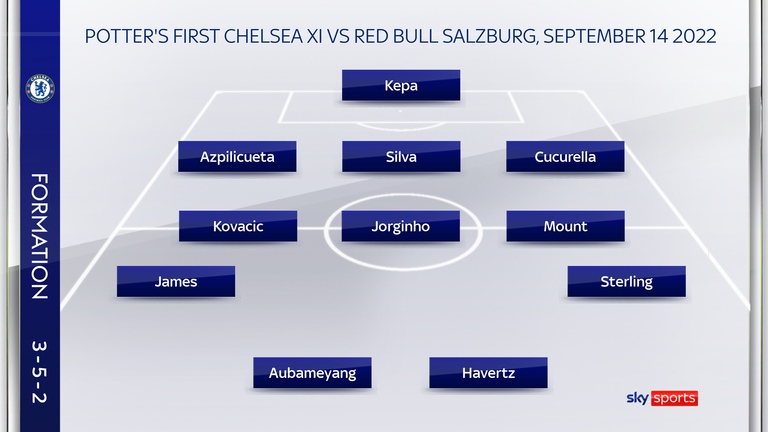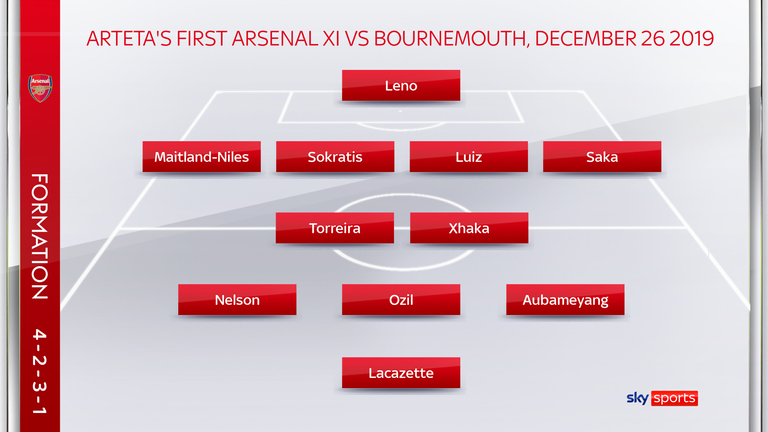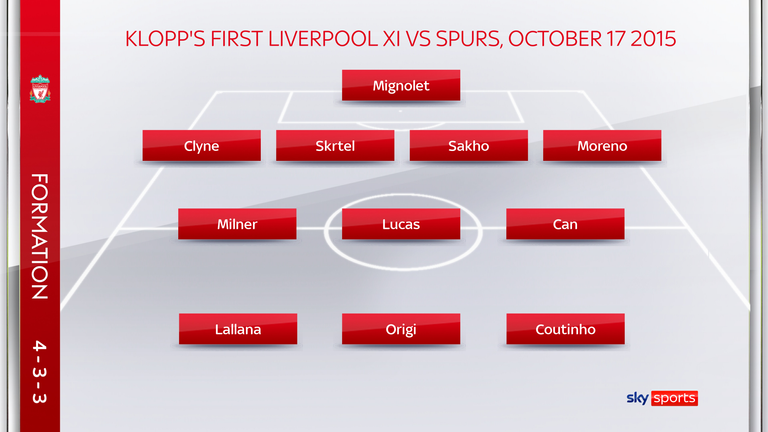 Arsenal and Liverpool supporters will also no doubt point to the comparative lack of spending made by their clubs during Arteta and Klopp's first transfer windows compared to Potter's.
While Potter was handed £323.3m worth of signings last month, Arsenal's only arrivals during the 2020 January window were Cedric Soares and Pablo Mari – both on loan – while Klopp received Marko Grujic and Steven Caulker during the 2016 January trading period.
None of this is to say Potter cannot and will not succeed at Chelsea. The manager has been forced to integrate a huge number of new signings mid-season, while his backers will also point to the idea that his methods take time to be fully picked up by his players.
That is evidenced by the ninth-place finish Brighton achieved during Potter's third full season in charge following 15th in his first year and 16th in his second.
But Chelsea – and in particular, their supporters – are not accustomed to waiting for success. Only a resetting of their expectations, coupled with the finding of some much-needed form, will help to relieve the pressure on Potter's shoulders.
CyberSEO.net – ChatGPT autoblogging and content curation plugin for WordPress