Chelsea have sacked Graham Potter as their head coach.
Julian Nagelsmann, sacked a week ago as Bayern Munich boss, has been installed as the favourite to replace Potter.
Potter was appointed as Thomas Tuchel's replacement on September 8 on a five-year deal, but has left the club just seven months into that contract, after winning only seven of his 22 Premier League games in charge.
The former Brighton manager was sacked in a meeting on Sunday at 2.45pm. Some senior figures at Chelsea wanted to remove Potter as manager back in January, as Sky Sports News reported at the time.
Sky Sports News understands Potter's number two Billy Reid has also left the club. Assistant coach Bjorn Hamberg and goalkeeper coach Ben Roberts will remain and assist Bruno Saltor, who has been appointed as interim head coach.
"I feel for Graham Potter, but it was inevitable," summarised Sky Sports pundit Jamie Carragher. "You don't change Tuchel for Potter. Ridiculous decision to start with."

Tuesday 4th April 7:00pm


Kick off 8:00pm

Chelsea face Real Madrid in the Champions League quarter-finals later this month but Potter's departure follows Chelsea's 2-0 defeat at home to Aston Villa on Saturday night, a result which left the Blues 11th in the Premier League table, 12 points behind fourth-placed Manchester United.
During the Stamford Bridge defeat, a section of Chelsea supporters sang: "you don't know what you're doing" at Potter.
Who will be the next Chelsea boss?
According to Chelsea, Potter 'has agreed to collaborate with the Club to facilitate a smooth transition.'
Former Brighton defender Bruno Saltor has been appointed as interim head coach, with his first game coming at home to Liverpool on Tuesday, live on Sky Sports.
But Nagelsmann has already emerged as a frontrunner to be Potter's long-term successor.
"For all Chelsea's insistence that they were investing in a process manager and his "innovative coaching" – plus their continued claims of backing his vision – the club's approach, especially recruitment-wise, was in contrast to Graham Potter's entire career," reflected Sky Sports' Melissa Reddy.
"Chelsea have twice before tried to tempt Mauricio Pochettino. They are one of three known Premier League clubs making a long play for [Brighton boss and Potter successor] Roberto De Zerbi. But the timing of this Potter decision, with Nagelsmann freshly available and Spurs circling, is instructive."
However, there are doubts that the 35-year-old German is currently prepared to move to London.
"Chelsea will have been doing their homework in the background, trying to set up a replacement. At the moment, we don't know who that person will be. What we do know is that they want Julian Nagelsmann and and he is available at the moment," explained Sky Sports News' chief reporter Kaveh Solhekol.
"The latest information we have coming out from Sky Germany is that they're not convinced that he's going to want to move from Germany and take another job straightaway. Maybe he's going to want to wait until the summer to give him a little bit of a chance to recharge his batteries after leaving Bayern Munich.
"The information I've got from my colleagues at Sky Germany this evening is it is 50:50 as to whether Nagelsmann would be prepared to move to Chelsea at the moment."
How Chelsea called time on Potter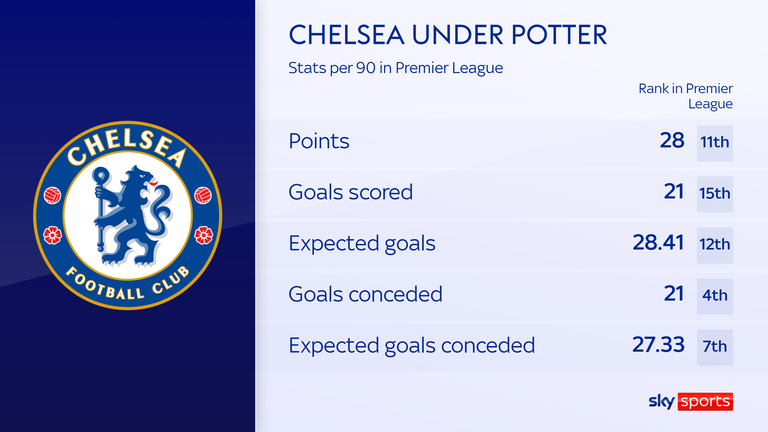 Sky Sports News has been told that while results were a huge factor in Potter's sacking, they were not the only reason.
It is thought the Stamford Bridge board, who sanctioned a £300m spending spree in the January transfer window, no longer saw the progress they wanted to see and "couldn't sustain the lack of progress anymore".
Potter's sacking was a unanimous decision following the defeat to Villa.
FREE TO WATCH: Highlights of Chelsea against Aston Villa

Speaking about Potter's sacking, a statement from Chelsea co-owners Todd Boehly and Behdad Eghbali said: "On behalf of everyone at the club, we want to thank Graham sincerely for his contribution to Chelsea.
"We have the highest degree of respect for Graham as a coach and as a person. He has always conducted himself with professionalism and integrity and we are all disappointed in this outcome.
"Along with our incredible fans, we will all be getting behind Bruno and the team as we focus on the rest of the season.
Graham Potter felt his players put in a 'positive performance' despite their 2-0 defeat to Aston Villa – the match which proved to be his last in charge of the club.

"We have 10 Premier League games remaining and a Champions League quarter-final ahead. We will put every effort and commitment into every one of those games so that we can end the season on a high."
'You can't spend £550m and be 11th in the Premier League'
Sky Sports News' chief reporter Kaveh Solhekol:
"Todd Bohely was instrumental in appointing Potter – he's the one that has been backing him and keeping him in the job. Other senior people at Chelsea wanted to make this change earlier but ultimately they weren't able to make that decision until now. Under the previous owner Roman Abramovich he would have been sacked three or four times.
"A Chelsea manager is usually someone with a massive personality, big ego and a CV with lots of trophies on it. It was a shock when they sacked Tuchel – he had won three trophies in 20 months including the Champions League. They were fifth in the Premier League when Tuchel was sacked, it was seen as a risk to sack a manager of the calibre of Tuchel and take a real risk with Potter. He wouldn't have got the job under the previous owners.
"This is a manager that cost the club £21m to get him from Brighton so they made a massive investment and gave him a five-year contract. But if you have spent £550m in two transfer windows and are 11th in the Premier League then if you are the manager you are going to pay for that with your job.
"A big issue is the fact Chelsea players have a lot of power and you need a big personality to manage them and to work with them. Even Frank Lampard had an aura about him and respect at the club. Potter is a very good coach but the Chelsea job is one of the biggest jobs in world football and to do that job you need to be of the stature of a Jose Mourinho, Antonio Conte or Tuchel.
"I think it will damage Potter's reputation at the top level. He couldn't have turned this job down – he did his best and carried himself impeccably at all times, taking responsibility. He had to put up with a lot too about people reporting that he may lose his job and it was well documented about the threats sent to him and his family. It will have taken a lot out of him. But I'm sure he will be back. Potter is a fabulous coach and manager. Maybe Chelsea was one level too high for him at this point in his career."
Who is Bruno Saltor?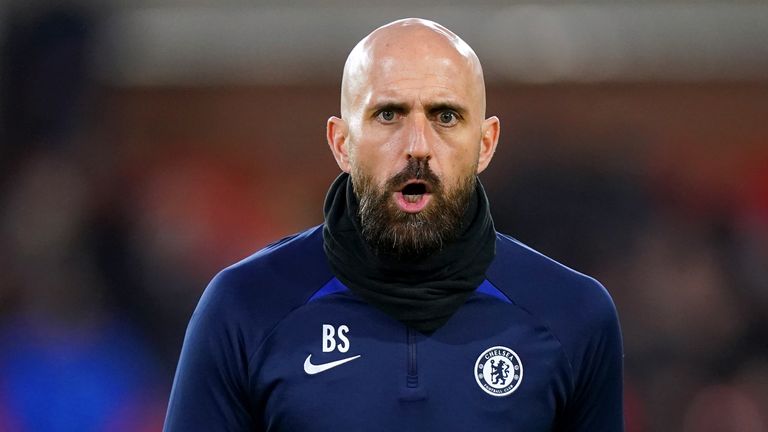 Sky Sports' Lewis Jones:
"With no managerial experience, Potter's first-team coach Bruno Saltor is the unlikely man tasked with leading Chelsea until the end of the season, including a Champions League quarter-final up against Carlo Ancelotti.
"He was a cult favourite as a player at Brighton, making 235 appearances for the Seagulls before moving on to Potter's coaching staff as senior player development coach in June 2019 at the south coast club.
"His playing status is immortalised with a mural in Brighton entitled 'El Capitan' which was painted on the side of a building in the city's North Laine area to mark their first season in the Premier League.
"Let's see where the future takes me and I will just try to be ready for whatever comes up," Bruno said in an interview with Sky Sports in 2021.
"He is now – for time being – the manager of Chelsea. Let's see if he's ready."
Opinion: Humiliation for Chelsea owners
Sky Sports' Adam Bate:
"As weekends go, Todd Boehly and Chelsea could hardly have endured a more humiliating one. Thomas Tuchel, freshly installed as Bayern Munich head coach, takes his new team to the top of the Bundesliga with an emphatic win over erstwhile leaders Borussia Dortmund.
"Simultaneously, over at Stamford Bridge, Chelsea are succumbing to a 2-0 home defeat to Aston Villa that sees them drop into the bottom half of the Premier League table. The next day, Graham Potter, the man chosen to replace Tuchel at great expense, is dispensed with.
"Though Chelsea remain in the Champions League, Potter can have few complaints. Clearly, with so much change at the club, this has been a difficult situation. But his job title was that of head coach not manager. He had to be judged on the results on the pitch. They were miserable.
"Potter was unable to establish a clear style, a cohesive pattern of play, the sort of partnerships that might have hinted at better days ahead if only he was afforded more time. Progress is more than a waiting game. It is a living thing and Chelsea needed to see signs of it developing.
"For Potter, these problems are now behind him. He will have opportunities elsewhere. The vacancy at Leicester might well prove a good fit. For Chelsea, the problems remain. They must find someone who can fashion something from an oddly assembled squad that still requires surgery.
"Several signings have struggled badly and may have to be moved on. Others appear long-term projects that will need time and trust if they are to succeed. Having sacked two coaches inside their first season, Chelsea's owners have already demonstrated that will be in short supply."
Chelsea's remaining 2022/23 fixtures
April 4: Liverpool (H) – Premier League, kick-off 8pm, live on Sky Sports
April 8: Wolves (A) – Premier League, kick-off 3pm
April 12: Real Madrid (A), Champions League quarter-final, kick-off 8pm
April 15: Brighton (H) – Premier League, kick-off 3pm
April 18: Real Madrid (H), Champions League quarter-final, kick-off 8pm
April 26: Brentford (H) – Premier League, kick-off 7.45pm
April 29: Arsenal (A) – Premier League, kick-off 5.30pm, live on Sky Sports
May 6: Bournemouth (A) – Premier League, kick-off 3pm
May 13: Nottingham Forest (H) – Premier League, kick-off 3pm
May 20: Manchester City (A) – Premier League, kick-off 3pm
May 28: Newcastle (H) – Premier League, kick-off 4.30pm
TBA: Man Utd (A) – Premier League
CyberSEO.net – ChatGPT autoblogging and content curation plugin for WordPress