Jamie Carragher believes Graham Potter was destined to fail at Chelsea owing to the club's inherent culture of winning trophies and the demand for instant success.
Potter was sacked on Sunday night after the Blues dropped to 11th in the Premier League following a 2-0 defeat at home to Aston Villa and with Liverpool next at Stamford Bridge on Tuesday, live on Sky Sports.
Speaking on Monday Night Football, Carragher said it was the right decision.
"Chelsea, alongside Real Madrid, are two of the most ruthless clubs in terms of how they deal with managers," Carragher told Sky Sports.
"It's OK Todd Boehly coming in and saying they are going to do it differently to Roman Abramovich, but I don't care what he says: those supporters, for the last 20 years, have been brought up on a culture of winning trophies, changing managers and getting Champions League winning managers coming every two or three years.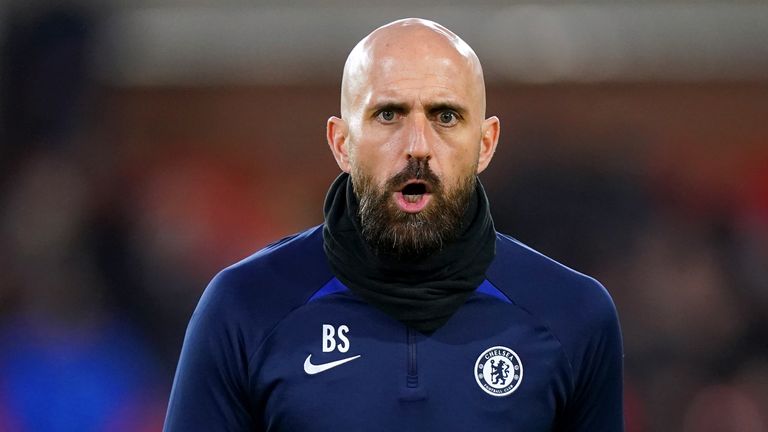 "At the weekend, those fans are chanting at Potter, telling him he doesn't know what he's doing. That's the reason he's gone. It doesn't matter what the owner says."
The decision to remove Potter was taken by Paul Winstanley and Laurence Stewart with the unanimous backing of Boehly and co-owner Behdad Eghbali.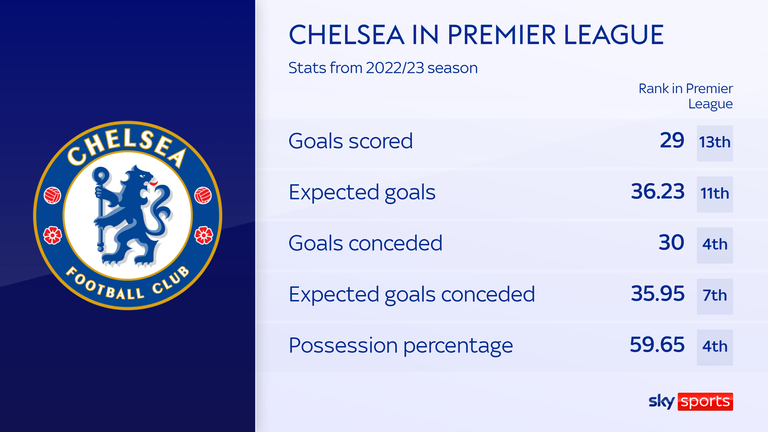 Chelsea recruitment chiefs Winstanley and Stewart will conduct the search for a new manager and hope for a better return after a record English fee of £21.5million was spent prizing Potter and his backroom staff away from Brighton in September.
Carragher has been critical of Boehly in the past, but he believes the Chelsea owner has made the right call in sacking his second manager in his first season.
"I'm not saying Potter couldn't work for a big club, it's just not the right fit. It's too ruthless at that club," added Carragher.
"It'll be said that Potter hasn't been given time and I get that, but when you haven't got a massive CV behind you or big trophies, you've got to hit the ground running.
"We had Rafa Benitez at Liverpool. We won the Champions League at the end of the season but for a lot of that campaign it was very up and down. But in the back of your mind as a player, and as a supporter, this is the guy who has won two La Ligas with Valencia. He knows what he's doing.
"Potter doesn't have that, unfortunately. He had to be right on it out of the traps.
Jamie O'Hara has no faith that Chelsea head coach Graham Potter can turn things around, saying the players have not bought in and he should demand more from his players.

"The reason I think it is the right decision to let Potter go is the worst thing that can happen to a club is if they are not sure about a manager, they start to think about getting to the end of a season and giving him pre-season.
"You start the first five games of the season, and he loses two, draws two and wins one, and you sack him. Then you've got a manager that had bought players through the summer, and you are chasing your tail yet again.
"I've been very critical of Boehly but I think this is the first decision he's got right."
Will Nagelsmann replace Potter?
Sky Sports News' chief reporter Kaveh Solhekol discusses who will take over from Graham Potter as Chelsea manager.

While dropping to 11th and sitting 12 points off the top four – the gap to the bottom three is the same – will not have helped Potter's cause, timing can sometimes be everything in football.
Potter's predecessor Thomas Tuchel had been installed as Bayern Munich head coach a little over a week before as Julian Nagelsmann was sacked. Nagelsmann will be the early front-runner to make the move to Chelsea, with fellow out-of-work coaches Mauricio Pochettino, Luis Enrique and Zinedine Zidane also likely to be heavily linked.
Carragher continued: "Do they go back to this idea of an up-and-coming coach like Potter but someone who has a bit more of a CV behind him and that the players will get behind a bit more?
Former Chelsea boss Thomas Tuchel gives his reaction to successor Graham Potter losing his job with the Blues, insisting the club has changed a great deal since he worked there.

"But that club is used to bringing in managers and managers who are available right now like a Zidane, like a Luis Enrique and Nagelsmann. Managers who have managed at the top level.
"It's what Chelsea have done in the past and I know it was a different owner, and I am not being critical at all because I don't like some of the criticism the club has received for sacking another manager. It works for them.
"They win trophies, they change managers and when you are a manager going into Chelsea you know what the score is, so don't complain when you lose your job because that club has been very successful with that culture."
Nev: Pochettino would be right appointment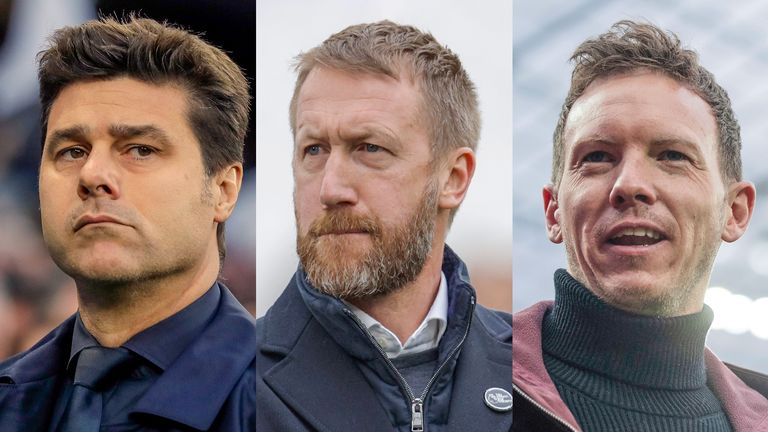 Potter briefly looked to have revived his ailing tenure with three consecutive wins before the international break, including victory against Borussia Dortmund that saw his side reach the Champions League quarter-finals.
However, confidence that he was the right man for the job was tested again by the loss to Villa, which yet again saw Chelsea struggle to live up to expectations set by Boehly's mammoth £566million transfer spend.
Gary Neville feels Mauricio Pochettino – not Nagelsmann – is the right man to take charge next on a permanent basis at Stamford Bridge.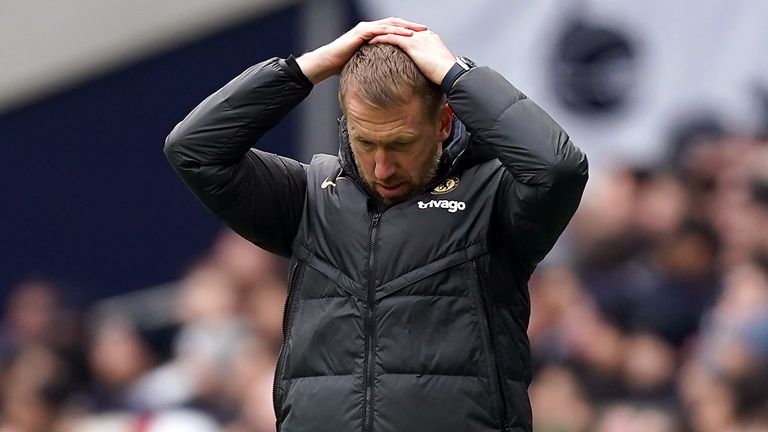 "Based on what Boehly has said, Chelsea have done their spending for the next three years – apart from signing a centre forward," Neville told Sky Sports.
"If they appoint Zidane, Enrique or Diego Simeone, they're going to want to have another £300m as they won't like some of the players they've previously signed.
"They've got to appoint a manager who is going to inherit and like the squad that they've got. – a lot of them are young – and I think that man is Mauricio Pochettino."
Potter may have told Winstanley: Get me out of here!
Paul Merson believes Chelsea will not want to be qualifying for the Europa Conference League next season.

After building up a fine reputation at Brighton, Potter will be keen to get back on the horse and show his Chelsea stint was a blip.
Tottenham and Leicester are currently in the market for a new boss and either role would allow Potter to get straight back to work in the Premier League – if that is what he feels he needs.
Formerly manager of Swedish side Ostersunds and Swansea, Potter revealed he and his family had received death threats after his poor start at Chelsea, and some time out of the spotlight is another option.
Whenever he does return, the chances are his record before moving to Stamford Bridge will hold him in good stead with potential employers.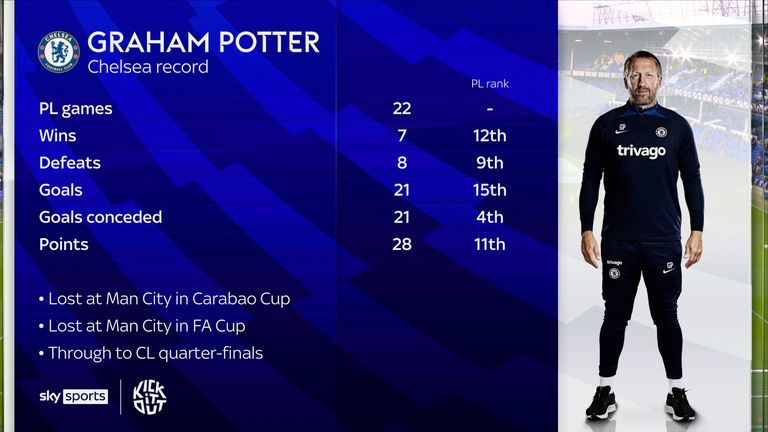 Neville added: "Ordinarily, when a manager is sacked it is not based on the past 24 hours or on one result. It's based on a feeling that's been coming over a period of weeks and months.
"I would've thought if they were getting to that situation and into that mindset, they'd have done it before the international break to give them some sort of time.
"The result against Aston Villa will have shocked them and they wouldn't have expected it.
"I think they will have thought going into the Liverpool game, they'd have had three points at home to Villa but it rocked them back.
"I don't think it's a surprise to anybody as it just didn't look right. In terms of the ownership, it didn't look right and it didn't feel right. Usually, when those two things happen, it's not right.
Graham Potter felt his players put in a 'positive performance' despite their 2-0 defeat to Aston Villa – the match which proved to be his last in charge of the club.

"His record wasn't great and the alignment of what owners talk about in terms of a long-term project wasn't there.
"At the start of the season they had Thomas Tuchel, they brought in [Raheem] Sterling, [Pierre-Emerick] Aubameyang and [Kalidou] Koulibaly – more experienced players.
"Then they flip-flopped, going to a longer-term manager and brought in loads of young players on eight-year deals and spent £600m.
Former Chelsea head coach, Thomas Tuchel says he was shocked to be sacked even though he sensed it was coming before his meeting with the club.

"They're a little all over the shop. I described them as chaotic at the start of the season. It's like a kid in a sweet shop, like Football Manager and they gave the manager too many sweets.
"He didn't know which ones to pick and it became a bit of a mess at the end. They have to now try to resurrect something from this season.
"It would be very Chelsea to go and win the Champions League from a position like this when you think back to the Roman Abramovich era. It's whether Boehly's era can bring that level of performance.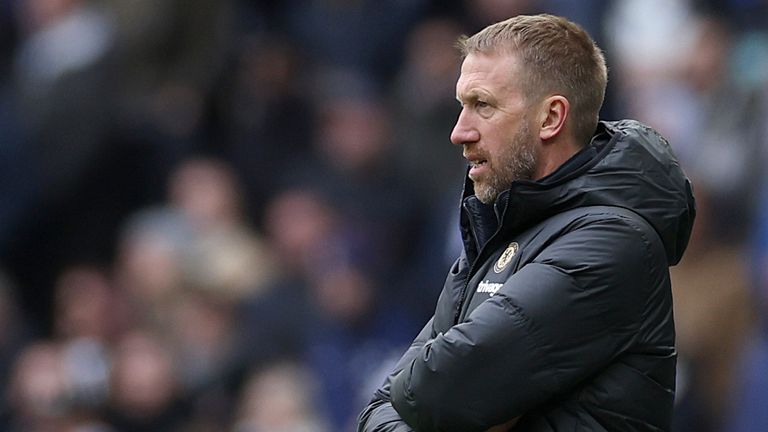 It's like a kid in a sweet shop, like Football Manager and they gave the manager too many sweets.
"Graham Potter is a good man and I think he will be feeling an element of relief. I don't think he was enjoying it there. He'd have thought it was mad.
"What he's been used to in terms of his view of football, I think he'll have seen what was going on behind the scenes.
"They lost Petr Cech and Marina Granovskaia at the start of the season – that wasn't planned. They lost Tuchel – that wasn't planned. He's come into a club that is in massive transition, they've paid billions of pounds and they don't know what they're doing to be fair.
"They're learning on the job. He's probably thought, 'these lot are mad'. The briefings in the last 24 hours are such that the sporting directors – Winstanley and Stewart – have made the decision to let Potter go.
"Potter knew Winstanley from his time at Brighton and I suspect he might have said to him, 'get me out of here!' It doesn't suit him. I don't think Chelsea were enjoying Graham Potter but Potter wasn't enjoying Chelsea.
"I feel he should just treat it as a nightmare this season and just put it to bed as though it never happened."
Chelsea's remaining fixtures
April 4: Liverpool (H) – Premier League, kick-off 8pm, live on Sky Sports
April 8: Wolves (A) – Premier League, kick-off 3pm
April 12: Real Madrid (A), Champions League quarter-final, kick-off 8pm
April 15: Brighton (H) – Premier League, kick-off 3pm
April 18: Real Madrid (H), Champions League quarter-final, kick-off 8pm
April 26: Brentford (H) – Premier League, kick-off 7.45pm
April 29: Arsenal (A) – Premier League, kick-off 5.30pm, live on Sky Sports
May 6: Bournemouth (A) – Premier League, kick-off 3pm
May 13: Nottingham Forest (H) – Premier League, kick-off 3pm
May 20: Manchester City (A) – Premier League, kick-off 3pm
May 28: Newcastle (H) – Premier League, kick-off 4.30pm
TBA: Man Utd (A) – Premier League
CyberSEO.net – ChatGPT autoblogging and content curation plugin for WordPress