Julian Nagelsmann wants to manage in the Premier League and sees it as his natural next destination but will not be rushing into a decision over his future amid strong interest from Chelsea and Tottenham.
The 35-year-old wants a short period to reset after being sacked by Bayern Munich and his preference is to oversee a full pre-season when taking on a new job.
However, his agency, Sports360, will be listening to proposals and have already fielded sounding-out calls from Chelsea, who sacked Graham Potter on Sunday, and Spurs.
More formal contact is set to be made, and an agreement being reached in the coming weeks that only becomes effective next season has not been ruled out.
Sky Germany understands that talks between Nagelsmann's representatives and Chelsea are ongoing and positive.
It is understood the complex situation surrounding managing director of football Fabio Paratici has put Tottenham on the back foot, with Chelsea having an edge as things stand.
FREE TO WATCH: Highlights of Chelsea against Aston Villa in the Premier League

No potential suitors have yet made contact with Bayern over compensation, something only expected to happen when Nagelsmann has settled on his new employers.
Sky Sports News has been told the increasing demand for the German's services offers a healthy negotiating position, as well as the time and space to make a choice.
Representatives from Sports360 know the recruitment decision-makers at both Chelsea and Tottenham well through player trading and personal relationships.
Nagelsmann worked with Chelsea's sporting director Laurence Stewart and technical director Christopher Vivell at RB Leipzig. They believe his history of developing young players, as well as his European experience and working with big names, marks him out as a fit for Chelsea's squad.
The club engaged with his agency over the sale of another one of their clients, Timo Werner.
Chelsea are set to assess up to seven candidates, including Nagelsmann, as they undergo what they insist will be an "exhaustive process". Mauricio Pochettino, Luis Enrique, Ruben Amorim, Oliver Glasner and Luciano Spalletti are among those under discussion internally.
However, Brighton manager Roberto De Zerbi is not believed to on the list.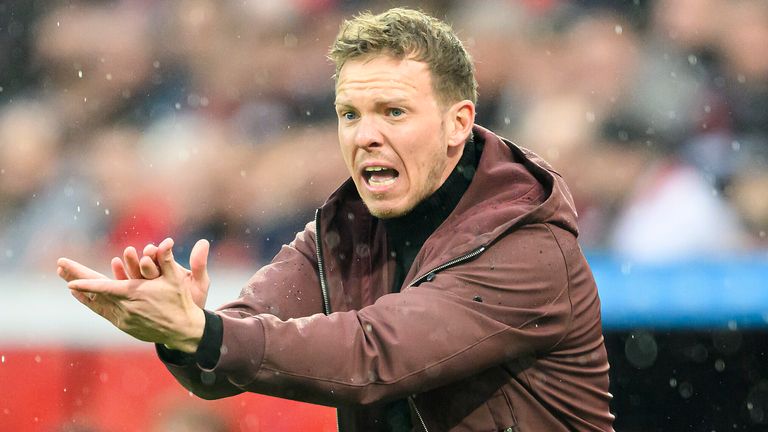 Chelsea have not set themselves a deadline by which to make the appointment.
Meanwhile, Daniel Levy, the Tottenham chairman, has also liaised with Nagelsmann's camp previously over players – and the manager himself.
He twice unsuccessfully tried to appoint the Bundesliga winner.
Speaking on Back Pages Tonight, Mark Ogden and Shebahn Aherne debate whether Julian Nagelsmann would be a good fit for Tottenham if they decide to part company with Antonio Conte

Nagelsmann started doing interviews in English four years ago to prepare for a Premier League job.
Having turned down Real Madrid in the summer of 2018 before his 31st birthday, Nagelsmann said: "The main thing is to make the right steps, not the biggest steps."
He also revealed he wants to be fully fluent in Spanish before accepting a job in LaLiga.
Sky Germany's Uli Koehler gives the latest update on Bayern Munich's decision to sack Julian Nagelsmann and appoint Thomas Tuchel

When asked why he chose Leipzig instead of Real, Nagelsmann responded: "They really fought to get me. It's important as a manager that you feel a club believes in you and your methods.
"A lot of clubs in the summer period phoned me and said 'perhaps we'd like to have you.' There was no perhaps with Leipzig. I am a young manager and it appealed to me to work at a club where the structure is clear, where there are not 20 guys all with an opinion that takes you in different directions.
"I can decide and things happen quickly because the vision is the same across the club."
Additional reporting by Sky Sports News' Lyall Thomas
German football expert Valentina Maceri discusses if ex-Bayern boss Julian Nagelsmann could become Spurs' next manager and what style he'd bring to the club

Could Nagelsmann be the person to replace Potter?
Sky Sports News' chief reporter Kaveh Solhekol:
Sky Sports News' chief reporter Kaveh Solhekol explains why Chelsea could find it complicated to try to appoint Julian Nagelsmann as their next head coach

"Nagelsmann is widely considered to be the best young manager in the game. He could be the next Jose Mourinho.
"I think Chelsea have got a chance of getting him. He wants to take a break after losing his job at Bayern Munich.
"All these managers now, they feel like they shouldn't just jump from one job to another job. They need a break to recharge their batteries and keep options open.
"From what Sky in Germany are telling us, if Chelsea were to get in touch with him and his people, I think he would definitely listen to them because Chelsea is one of the best jobs in world football.
"The London location, being in the Premier League, having such rich owners and an incredible squad to work with – it ticks a lot of boxes for managers, so I think Nagelsmann is gettable if they want him.
"Chelsea just need to pick up the phone and also they need to speak to Bayern Munich as well, because Sky in Germany are telling us that contractually he is still tied to Bayern and they would be involved in the process if he was to take another job.
"What's interesting is that it could be Bayern Munich vs Chelsea in the Champions League semi-final and then you could have Tuchel versus Nagelsmann. I think Bayern Munich are being quite cute and clever because they don't want Nagelsmann having all their secrets and using them for Chelsea in a potential semi-final."
Sky Sports News' chief reporter Kaveh Solhekol discusses who will take over from Graham Potter as Chelsea manager.

Are there other candidates?
Sky Sports News' chief reporter Kaveh Solhekol:
"You've got to consider Pochettino. They've spoken to him before. I think he was quite close to getting the job before. He is obviously still available.
"The latest information we had from him was that he's keeping his options open as well. I think he would rather wait until the summer to see what is available. There's quite a lot of jobs likely to become available with Real Madrid potentially being one destination.
"Other people that are available include Luis Enrique and Zinedine Zidane.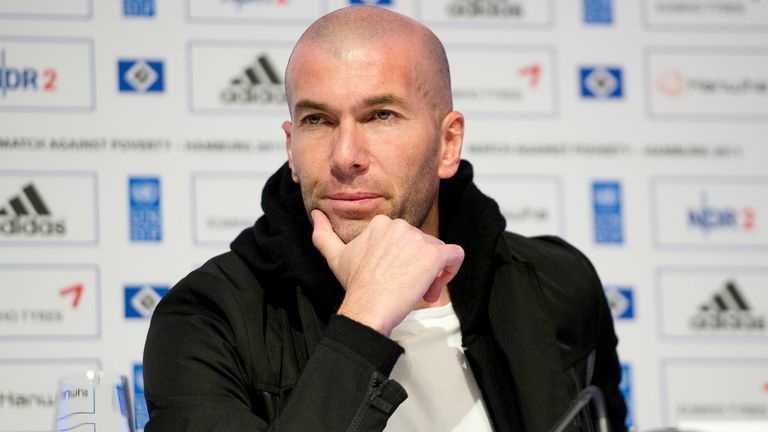 "They're going to be getting a lot of calls from agents of some of the best managers in the world.
"We've been getting calls from agents of managers pushing their clients and their credentials.
"I think they're in a better place now than they were in September to make sure they pick the right person.
"But what is 100 per cent guaranteed is they won't be taking a risk. They won't be appointing an up-and-coming coach, it must be somebody who's got Champions League experience, a big-name manager with personality, charisma with an aura.
"They've got to immediately get the respect of that dressing room because the dressing room at Chelsea historically has been very, very powerful.
"You need to be a Mourinho, a Tuchel, an Antonio Conte or a Carlo Ancelotti to control it and dominate it."
Carragher: Chelsea fans reared on short-termism
Gary Neville and Jamie Carragher share what they think Graham Potter should do after leaving Chelsea and who the club should replace him with

Jamie Carragher believes Potter was destined to fail at Chelsea owing to the club's inherent culture of winning trophies and the demand for instant success.
Speaking on Monday Night Football, Carragher said it was the right decision to sack him.
"Chelsea, alongside Real Madrid, are two of the most ruthless clubs in terms of how they deal with managers," Carragher told Sky Sports.
"It's OK Todd Boehly coming in and saying they are going to do it differently to Roman Abramovich, but I don't care what he says: those supporters, for the last 20 years, have been brought up on a culture of winning trophies, changing managers and getting Champions League winning managers coming every two or three years."
Nev: Pochettino would be right appointment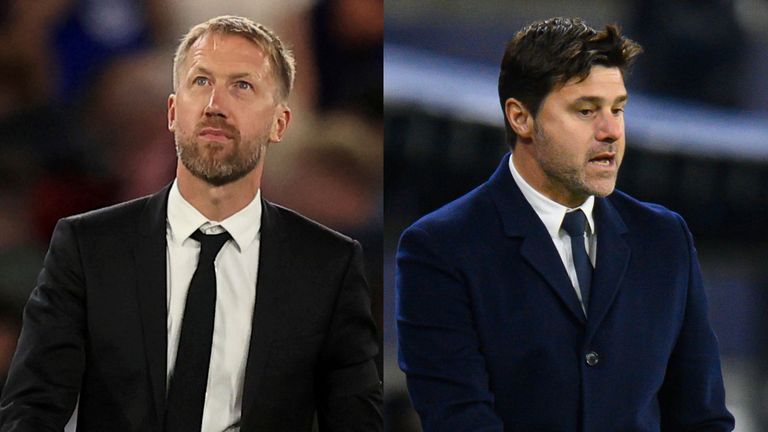 Speaking on Monday Night Football, Gary Neville feels Mauricio Pochettino – not Nagelsmann – is the right man to take charge next on a permanent basis at Stamford Bridge.
"Based on what Boehly has said, Chelsea have done their spending for the next three years – apart from signing a centre forward," Neville told Sky Sports.
Bruno Saltor says he was surprised to be asked to step in as Chelsea's interim head coach following Graham Potter's departure

"If they appoint Zidane, Enrique or Diego Simeone, they're going to want to have another £300m as they won't like some of the players they've previously signed.
"They've got to appoint a manager who is going to inherit and like the squad that they've got. – a lot of them are young – and I think that man is Mauricio Pochettino."

Tuesday 4th April 7:00pm

Chelsea's remaining fixtures
April 4: Liverpool (H) – Premier League, kick-off 8pm, live on Sky Sports
April 8: Wolves (A) – Premier League, kick-off 3pm
April 12: Real Madrid (A), Champions League quarter-final, kick-off 8pm
April 15: Brighton (H) – Premier League, kick-off 3pm
April 18: Real Madrid (H), Champions League quarter-final, kick-off 8pm
April 26: Brentford (H) – Premier League, kick-off 7.45pm
April 29: Arsenal (A) – Premier League, kick-off 5.30pm, live on Sky Sports
May 6: Bournemouth (A) – Premier League, kick-off 3pm
May 13: Nottingham Forest (H) – Premier League, kick-off 3pm
May 20: Manchester City (A) – Premier League, kick-off 3pm
May 28: Newcastle (H) – Premier League, kick-off 4.30pm
TBA: Man Utd (A) – Premier League
CyberSEO.net – ChatGPT autoblogging and content curation plugin for WordPress