Julian Nagelsmann was labelled a 'PR stunt' at the start of his career. The man who turned down Real Madrid before turning 31, is now wanted by Chelsea and Tottenham. Here's the definitive guide to the former Bayern Munich manager…
'Schnapsidee' – a crackpot idea that could only be fuelled by alcohol – screamed a headline in the German publication Frankfurter Rundschau. Their counterparts, Rhein-Neckar-Zeitung, went for the simpler but no less stinging 'PR stunt.'
It was early 2016 and the local press pack weren't pulling any punches when Hoffenheim placed a 28-year-old Julian Nagelsmann in charge of their first team.
Flick on a few years and youngest permanent manager in Bundesliga history was turning down Real Madrid before celebrating his 31st birthday. Let go by Bayern Munich last week – a decision that has split the dressing room and club legends – he is now wanted by Chelsea and Tottenham.
Nagelsmann will manage in the Premier League – it is only a matter of where and when. His career has been moulded by personal tragedy that made it easy to drown out dissenting voices, frame football in perspective, and peel back before making major decisions.
How injury and grief impacted Nagelsmann's career
Sky Sports News' chief reporter Kaveh Solhekol explains why Chelsea could find it complicated to try to appoint Julian Nagelsmann as their next head coach

To understand Nagelsmann requires tracking back to a half-year period when aged 20, he suffered cruciate ligament damage that forced the centre-back to prematurely retire. While still wrestling with that pain, he unexpectedly lost his father, Erwin, after a short illness.
"The big dream to become a professional player broke down and this certainly hurt," he told this writer in April 2018.
"I felt and thought back then that I wasted all my youth, that it was all for nothing. It just felt terrible. First, there was that decision I had to take to stop playing and then, more painfully, was the death of my dad. That changed a lot of things in my family. It was a huge cut in my life."
Highlights of the thrilling 'Der Klassiker' Bundesliga match between Bayern Munich and Borussia Dortmund.

With his older siblings far away, Nagelsmann had to assume responsibilities beyond his age. He moved back to the family home in the southwest town of Landsberg am Lech from Munich to be his mother's rock.
He tackled all the administrative issues "that comes with the death of a person, like in our case: selling the house, dealing with insurances, and the car.
"I had to organise all things I never thought about before, but that needed to be dealt with. You realise then what it all means.
FREE TO WATCH: Highlights from the draw between Chelsea and Liverpool in the Premier League

"It made me more mature and grown in my life. I did maybe things that were not normal for somebody my age.
"You get to know that there is something so much more important in life than football, which is the family. It opens your eyes. It helps you make decisions that others might not be able to take, and as a coach you are faced with decisions constantly.
"You experience and feel a lot of pressure being in this job, but then your private life shows you that there are many more significant things around. I am very passionate about football, and about coaching, but it's not everything to me. I love it, but it is not life or death."
Hoffenheim: From scepticism to Champions League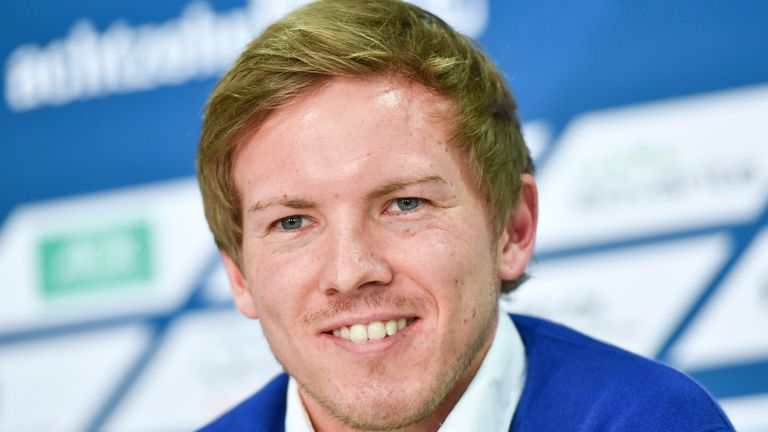 Nagelsmann's outlook ensured he was not unnerved by the antagonism which greeted his Hoffenheim appointment, nor the prospect of relegation. He preached courage to his players and advocated attacking football without fear of failure, wanting them to enjoy themselves and not merely survive.
That cut across his erroneous portrayal as a "laptop coach," obsessed with analytics and technical advancements. "I strongly believe that if you want to be successful, empathy and taking care of the person behind the player is of greater importance than any tactical aspects," Nagelsmann would say.
"I place great emphasis in giving my players a clear tactical plan to help and support in match situations. But the relationship I have with them is very, very important to me."
Hoffenheim swerved the drop and went on to finish fourth in Nagelsmann's first full season in charge, when Jurgen Klopp's Liverpool would then beat them in a Champions League qualifier to delay his participation in Europe's elite competition.
The following year, Hoffenheim secured third spot and featured on the grand stage for the first time in their history, which prompted a phone call in the summer of 2018 that stunned Nagelsmann.
Real Madrid come calling
Jose Angel Sanchez, the managing director of Real Madrid, was on the line to relay the fact the club saw him as the primary candidate to replace Zinedine Zidane at the Bernabeu.
"It's normal if Real Madrid call you, you think about it," Nagelsmann admitted. "I was surprised at first, I weighed it up and I didn't feel comfortable with a decision to go there. I want to improve. If you go to Real Madrid, there's no time to improve as a manager.
"You don't have a chance to be a better manager, you already have to be the best. I'm not the best now, but I can admit I want to be one of the best in future. If you go to Real Madrid or Barcelona, the fans, the media and the decision-makers don't give you the time to grow into that.
Sky Sports News' chief reporter Kaveh Solhekol discusses who will take over from Graham Potter as Chelsea manager

"They only want to see victories every game, titles, Champions League trophies. If you don't win, you can't say 'but I'm still young, I'm still developing.' It's not that easy in football to plan a career, because it is so unpredictable, but you have to try.
"The main thing is to make the right steps, not the biggest steps. Real Madrid is probably one of the highest steps you can take so I thought 'you turn 31, go to Real and where to do you go from there?'
"The other thing is language is very important to me. I like to communicate, I'm very expressive with my players and I can't speak Spanish yet."
How the inside track benefitted Leipzig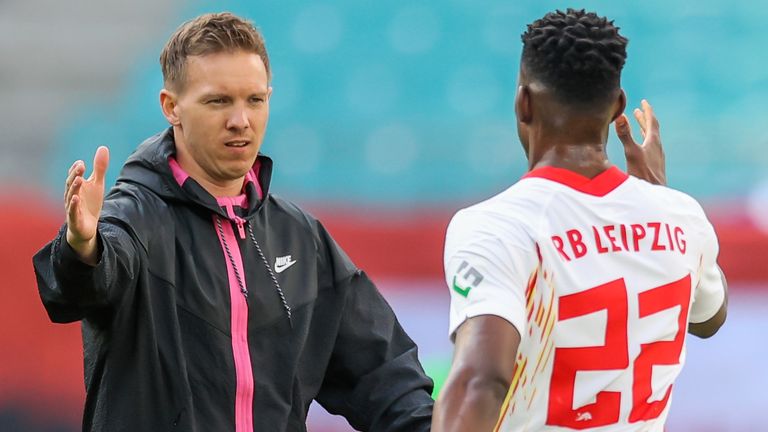 Nagelsmann's next step from Hoffenheim was already sketched before the phone call from Spain's giants, courtesy of fast work from RB Leipzig.
They had an inside track – much like Chelsea do now.
Ralf Rangnick had been at the Hoffenheim helm when Nagelsmann was assistant coach of the club's U17s and was promoted to taking full charge of the youth team. He pinpointed the former defender as "the greatest managerial talent in Germany," and acting as Leipzig's sporting director, did everything to land him along with the club's CEO, Oliver Mintzlaff.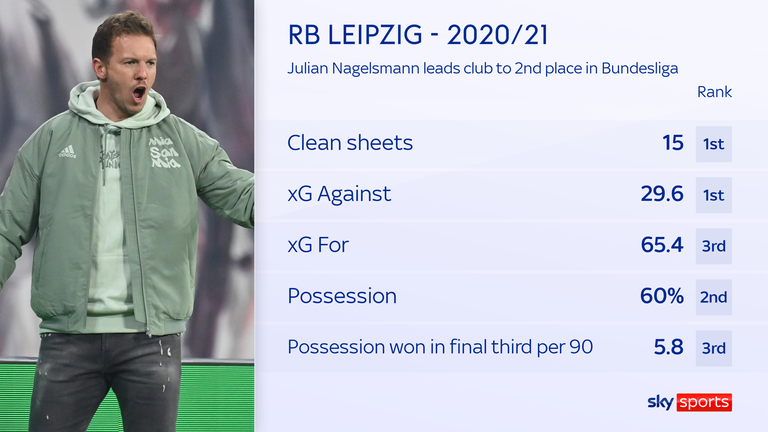 "They called me over a year before they wanted me at Leipzig and told me why and how it would work," Nagelsmann revealed. "The next day, there was a contract sent to my email. It took just 20 hours after we spoke for it to arrive and that is not normal.
"A lot of clubs in the summer period phoned me and said 'perhaps we'd like to have you.' There was no 'perhaps' with Leipzig. I am a young manager and it appealed to me to work at a club where the structure is clear, where there are not 20 guys all with an opinion that takes you in different directions.
"Here I can decide and things happen quickly because the vision is the same across the club."
At Hoffenheim, Nagelsmann became the youngest coach, aged 31 years and 58 days, to feature in the Champions League. He became the youngest to win in the competition at Leipzig, before leading the club to the semi-finals.
Success at Bayern – but abrupt end
Sky Germany's Uli Koehler gives the latest update on Bayern Munich's decision to sack Julian Nagelsmann and appoint Thomas Tuchel

It was only a matter of time before Bayern came knocking – and they duly paid a world record €25m compensation fee to extract him in 2021.
Nagelsmann won the Bundesliga title and two DFL Supercups but, while on on a skiing trip in Austria during the March international break, the club released him due to the "big fluctuations in performance that have cast doubt on our goals for this season, but also our goals for the future."
The decision was a jolt to most players. "I was surprised," admitted defender Matthijs de Ligt. "We're second in the league, in the quarter-finals of the cup, and in the quarter-finals of the Champions League. Everything's still in there.
"Those in charge decide who the coach is, but it was a tough pill to swallow. I had a good relationship with the coach and his staff, so it was difficult for me.
"I got in touch with him, sent him a message and thanked him for everything he taught me. He really wanted me at the club, and was important to me. Thanks to him, I've taken important steps in my development."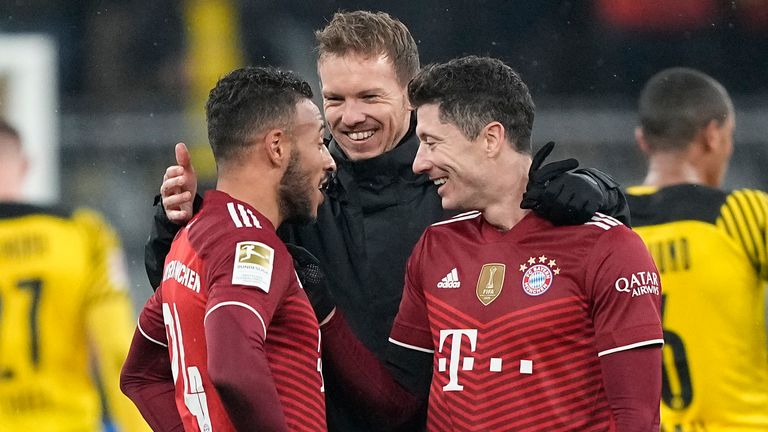 Joshua Kimmich and Leon Goretzka also put on record their disappointment at Nagelsmann's sacking.
But there was celebration in the dressing room too, chiefly from Manuel Neuer, who was angered by the firing of goalkeeping coach Tony Tapalovic after almost 12 years at the club.
Thomas Tuchel replaced Nagelsmann, but there will be no hard feelings between the pair. Their relationship stretches too far, too deep for that.
How Tuchel helped Nagelsmann into coaching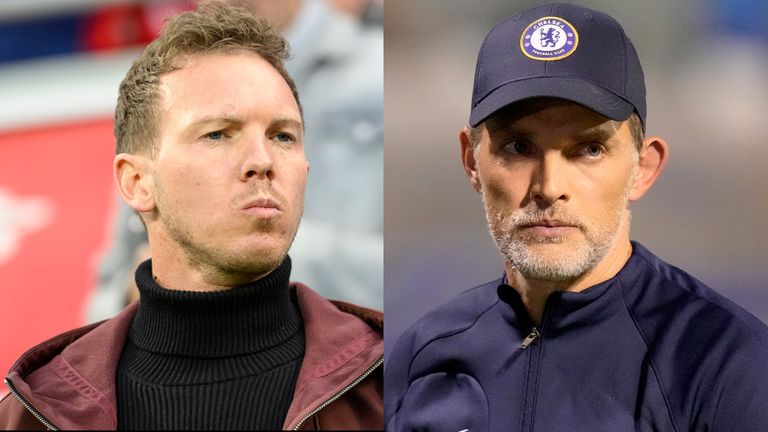 After being forced into retirement at 20, Nagelsmann went through a "four to six week period where I didn't want anything at all to do with the game."
He undertook a course in business studies and was about to start a job in sales with BMW when Tuchel diverted his course.
"To earn money for my studies, I worked as a scout for Tuchel at Augsburg II, where I still had a playing contract, but I still didn't really realise that I wanted to become a coach," Nagelsmann explained.
"When Tuchel later said to me that I should try the coaching route and an offer came from 1860 Munich to work as their Under-17 assistant coach in 2008, I decided to give it a try.
"After a few weeks, there was so much passion and I felt the fire burning in me."
Nagelsmann would complete a bachelor's degree in sports science to complement his rapid coaching rise.
Chelsea or Tottenham next?
German football expert Valentina Maceri discusses if ex-Bayern boss Julian Nagelsmann could become Spurs' next manager and what style he'd bring to the club

The motocross enthusiast, who also won the Bavarian championships in the 50m sprint as a youngster, could now follow Tuchel in managing Chelsea.
Nagelsmann worked with the club's sporting director Laurence Stewart and technical director Christopher Vivell at Leipzig. They believe his history of developing young players, as well as his European experience and working with big names, marks him out as a fit for Chelsea's squad.
The club engaged with his agency, Sports360, over the sale of another one of their clients, Timo Werner.
Daniel Levy, the Tottenham chairman, has also liaised with Nagelsmann's camp previously over players – and the manager himself. He twice unsuccessfully tried to appoint the Bundesliga winner.
It is understood the complex situation surrounding managing director of football Fabio Paratici has put Tottenham on the back foot, with Chelsea having an edge as things stand.
Nagelsmann started doing interviews in English four years ago to get comfortable communicating in the language to prime for a Premier League job.
He will work in England – it's only a matter of how soon, and for whom?
CyberSEO.net – ChatGPT autoblogging and content curation plugin for WordPress